Loyalty partnerships with complementary brands are the best way to create additional value, for customers and for your business.
Depending on the maturity of your loyalty program, you may already have some program partners, or be a partner in somebody else's program. Or, you may be considering whether embarking on some partnerships could be the right move.
You should find this article useful whichever of those applies to you, or even if you never considered partnering. But if you are new to partner loyalty, you would do well starting from the perspective of evolving best practice, rather than from outdated thinking.
The best-known loyalty programs are made up of many partnerships – such as United Airlines and Hilton Hotels, or Emirates and Marriott. But partnerships don't have to be between huge companies; a local pharmacy can partner with convenience stores or fashion retailers.
The majority of existing partnerships at big loyalty programs are brokered with one goal in mind: creating more value for the most frequent customers. For airlines and hotel groups, frequent customers are business travelers, so their partner mixes are heavily biased toward fellow travel brands.
Frequent customers are important, but brands know this narrow focus is no longer enough, in an age where the next 40-60% of less frequent customers represent the biggest untapped commercial opportunity.
The next 40-60% – also known as the 'mid-to-long tail' – are already familiar with your brand; they simply need the right incentives to allocate more share of wallet to you.
Just like the most frequent customers, engaging the mid-long-tail in your loyalty program will depend on finding complementary brand partners. However, the vast majority of these customers are a more varied subset of your audience, with more varied interests. They need everyday spend partners, such as convenience stores, coffee shops, pharmacies, and grocery stores – or recurring revenue businesses like utilities, telcos, or even the suppliers of their housing.
As a result, finding the right partnerships for the less frequent customer has usually been overlooked.
But it doesn't have to be difficult; when brands and customers work together to co-create value in a loyalty ecosystem, they can point each other towards the right partnerships. If you succeed at this, you will also harness recurring benefits in the form of insightful customer data, which will allow you to market to the mid-long tail more effectively and affordably, and maximize the lifetime value of every customer.
The value can be immediate. Agreeing to promote each other to existing customer bases nearly always leads to an immediate uplift in sales for both parties.
This article explains the importance of co-creation of value in loyalty: what it implies, the benefits it confers and how to get started. This could range from simply asking people directly which partnerships they would like to see, to making use of the extensive customer data insights, which are at the fingertips of most brands, to identify the best opportunities for co-created value.

How loyalty partners co-create value
In a loyalty partnership, partners provide forms of value for each other's customers, that they couldn't create on their own.
This is beneficial for brand loyalty because most people have a limited need for products or services in any category. So, if you sell shoes, your loyalty points may convince the customer to buy 1-2 new pairs with you per year, but they won't buy 6-8 pairs just to earn more points. Equally: few people stay in a hotel more than a couple of times a year, so they won't reach a free night unless they can earn points beyond the hotel chain.
Common customers of both those brands, however, could get something of value each year – keeping them motivated to earn more points by frequenting both brands.
In loyalty programs with multiple participating brands, the partnerships create the conditions for  customers to remain active across the whole network of collaborating companies. The graphic below indicates the categories of spending for many customers. Having a few partners in each category is key to engaging 50%+ of your customer base.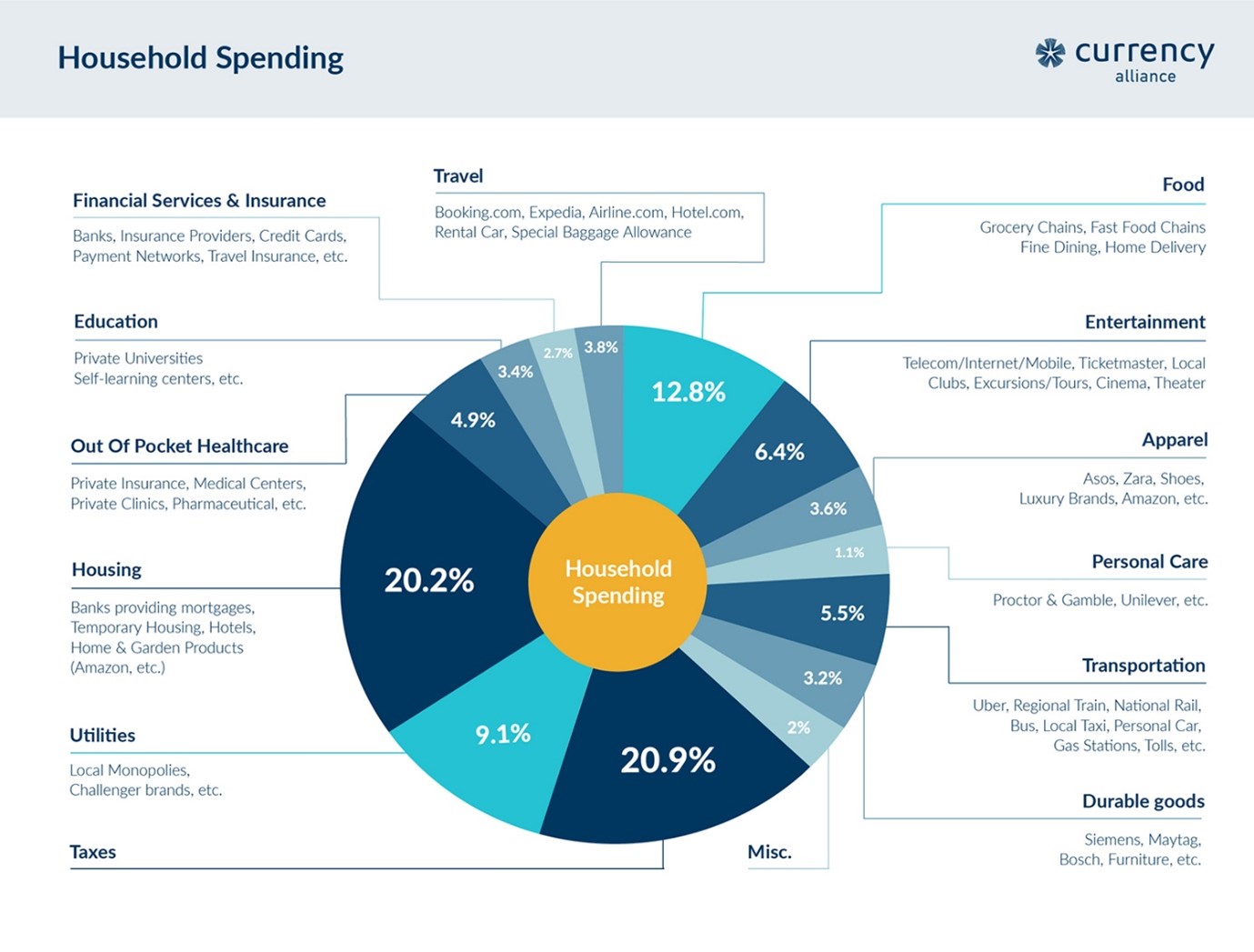 Partners in different categories also create value for each other's businesses, by enabling complementary forms of customer engagement.
'Earn' partners – traditionally gas station chains, grocery stores, sandwich shops, and credit cards – create customer frequency in the program, because they're categories where people spend weekly or daily. This exposes a lot of people to a lot of marketing, shines a light on potentially valuable customers based on their spending patterns, and creates a mechanic whereby they can earn value every week that helps them earn enough points to burn on an aspirational goal.
'Burn' partners – providers of aspirational experiences, such as travel, restaurants and entertainment – are the bait that draws people to participate in the program. They also tend to be high-margin businesses, sometimes with distressed inventory that customers can obtain at high perceived value, but relatively low cost to the loyalty network.
And, whether you're an 'earn' or 'burn' partner, everybody's CPA (cost per action) falls, because your partners' customers become exposed to your brand when they participate across the network.
Even if brands have their own loyalty program, with their own proprietary loyalty currency, they can still collaborate as exchange partners – enabling customers to shift value between programs; i.e., shift value to where the customer perceives the highest value. This reinforces their motivation to collect points in the first place.
The problem with the 'classic' set of loyalty partnerships
The trouble is, there are plenty of potentially frequent customers who don't really care about luxury hotels or flight upgrades. There are also plenty who don't drive a car, or who don't use a premium credit card. The point is, the loyalty ecosystem breaks when most partners are of a similar nature and there is little appeal to less frequent segments. Since customers' preferences are so varied, the 'classic' set of loyalty partnerships, that characterizes the majority of major travel loyalty programs, simply isn't sufficient to engage the majority of your customer base.
I'm a case in point.
Prior to Covid-19, I flew a lot for business, but as a startup entrepreneur protecting my company budget, I look for the best value, rather than the most enjoyable arrangements.
Several airlines and hotel groups did win my preference because of their loyalty program. The Norwegian Rewards program, for example is so transparent that I can redeem my value whenever I want by applying the accumulated points to my next purchase. Vueling is similar.
Neither brand, however, has a mix of partners which allows me to earn points when not traveling, so in 2020 and most of 2021 with Covid-19 restricting my travel, I earned very few points. I often wonder which airline will be the first to ask me which partnerships would win a greater share of my wallet – which, at any one airline, would make me one of their more valuable customers.
To get it right for those customers with great potential to be more frequent, the path is less obvious than offering luxury redemptions to big spenders. To consider a few hypothetical customer profiles that most brands should be courting – but which few can easily identify with their present set of partnerships…
Young travelers: who avoid spending anything in luxury categories, precisely so they can afford to visit more places per year.
New parents: who may have a healthy income, but who won't go anywhere (other than to visit family) until their children are a couple of years old.
Up-and-coming professionals: high-performing students, or recent graduates who aren't wealthy yet, but who will be earning large pay checks in four or five years and will probably end up joining a lot of different loyalty programs.
At their respective life stages, these people are all less likely to take the bait that most loyalty programs use to fish for frequent customers. Life stage – based on age, family status, employment, and other factors – is an important concept and certainly affects your customers' frequency and basket size with your brand. The new parents may still use a premium credit card, but all these personas are unlikely to frequent fancy restaurants or buy premium fuel for their cars.
These people can be successfully identified, however. If you set out with the mindset of co-creating value for these people over a long period of time, you're more likely to find the right partner brands to appeal to customers at each life-stage.
The importance of third-party insight
In most marketing contexts, 'co-creation' implies co-creating with the customer – to design a new clothing line, for instance, or a new brand logo perhaps – and if you search for co-creation case studies on Google that's mostly what you'll discover. This approach to co-creation can also be applied to discovering new loyalty partnerships.
But it also implies co-creating with partner brands, to create more value for your common customers. This is an effort which starts with customer insights and data, and sharing those insights with your partners, in order to discover new partnerships and partner-based offers which are likely to add the greatest customer value.
Loyalty partnerships also create a flywheel effect – whereby each partner adds more customer insight over time, so profiles become richer, and you know sooner when a customer is evolving into their next life stage.
Designing the right mix of partnerships is at odds with the way loyalty partnerships have traditionally been forged at large loyalty programs – which is with a focus on incremental revenue from the participating companies. Incremental revenue is very important, and loyalty programs should be profit-centers. However, this focus becomes less sustainable when the KPIs for both sides of the partnership are lopsided.
In sustainable models, brands are focused on creating value for customers (and they can do this better because intermediary costs are far lower), so they accelerate the flywheel.  The revenues quickly follow.
The following graphic is designed to show an optimal loyalty program in the grocery sector. It shows how great a share of a customer's spending remains untapped by the average loyalty program. We estimate that 75-80% a customer's spending is untapped potential. The same applies to loyalty programs in travel.
Asking just 10 of your frequent customers, and importantly 20 of your less frequent customers where else they shop, every month or two, will uncover a list of relevant potential partners.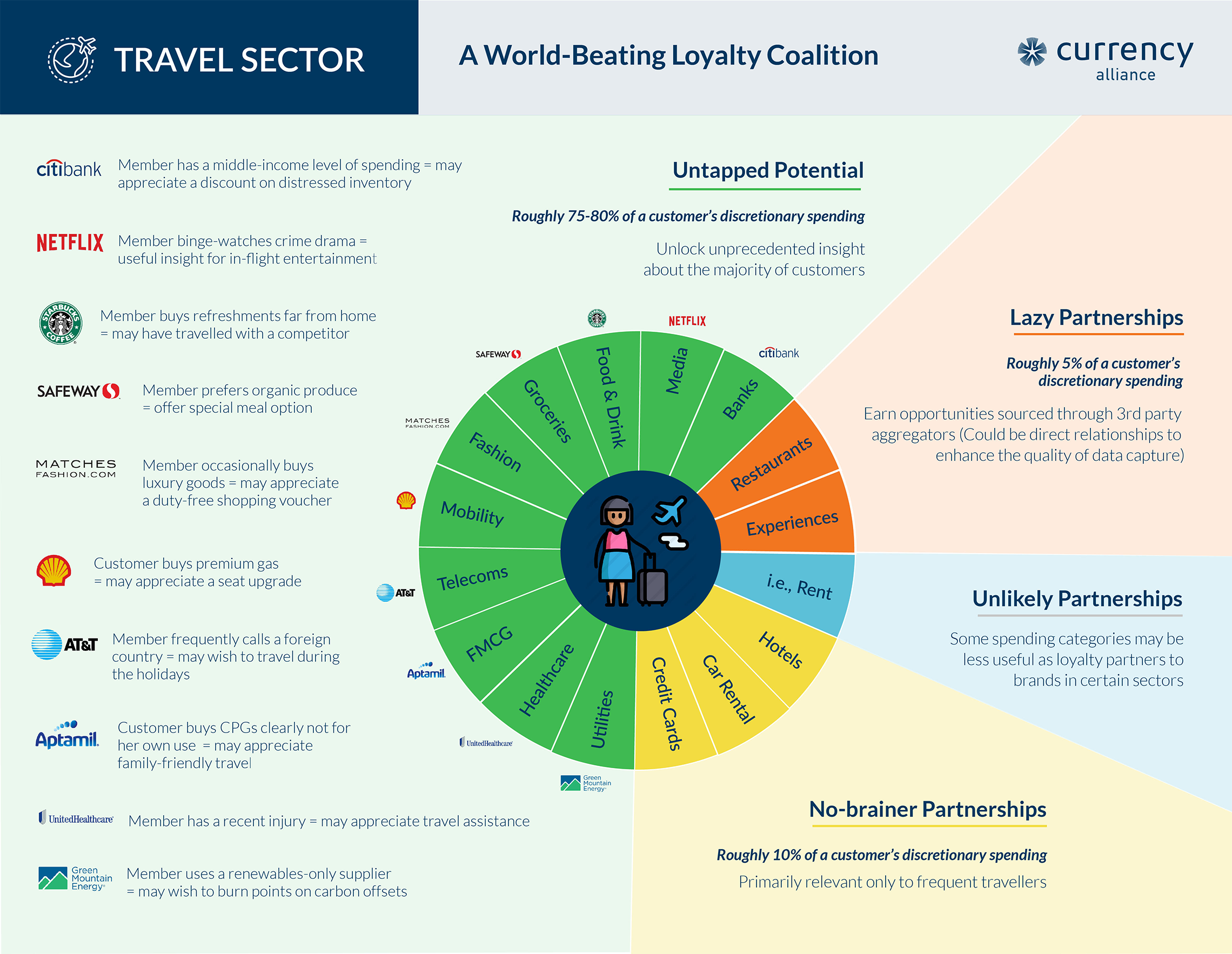 Untapped insight in your customer base
One of the oldest and best-known examples of co-created value is Bank of America's 'Financial IQ' campaign which was designed to identify future valuable customers among high-school students. In this case, the third-party insight came directly from the customer, rather than from loyalty data or via a partnership.
In one iteration of the campaign, in 2008, the bank ran a 'Be Money on Campus' contest, whereby students competed to offer the most useful financial advice to their peers, with cash prizes of $25,000 up for grabs.
By asking students to advise each other, the bank discovered what kinds of information it could provide to young people, in order to attract and retain their business.
But it also conferred immediate sales and loyalty benefits: +40% sales to high school students, and identifying some potentially very valuable customers amongst those who took part in the co-creation effort. Any student who takes time out of study, to compete to create value for their peers, in exchange for a cash prize, has 'successful businessperson' written all over them. People often stay loyal to their banks for life.
This underscores how effective co-creation can be as a loyalty driver: bringing out of the woodwork those customers who are enthusiastic to help your brand improve and become more valuable to them.
In the context of complementary brands, everybody has competitors, and switching costs for customers have come way down in the past decade. Companies that, 10 years ago, sold nothing that you sell, may now have a 5-25% overlap in products or services offered.
Companies with an overlap are not necessarily bad partners. There may still be opportunities to help each other, if it allows you to capture 80%+ of the customer's share of wallet rather than 30%. The tide rises for everyone.
Yet there will be very many other businesses in the neighborhoods of your store(s), as well as online, with whom a few exploratory conversations will uncover terms on which you can promote each other to your customer bases.
Co-creation via your loyalty partnerships
Customers' spending habits with one brand can reveal things about their lifestyle which may be incredibly useful to their partners. Drawing on that insight to co-create value, via a loyalty partnership, does involve a certain amount of intuition, but there's a track record showing that this approach is reliable and effective.
The 'classic' example is the 'fuel x airline' tie-up: if somebody puts premium fuel in their car, you can reasonably say that they are more likely to buy a business- or first-class ticket, or to respond favorably to an upgrade offer. The two brands can therefore co-create offers designed to accelerate the identification of those customers. In a hypothetical offer for the month of April, people who purchase $200 of premium fuel might be able to earn a 2,000-point bonus in their preferred airline program.
This particular pairing has been done, countless times, because it's such a powerful model: it creates genuine value for a particular, high-spending customer profile. But practically all the customers who might be interested in airlines and premium fuel are probably already engaged in the relevant loyalty programs, so it's a limited opportunity for growth.
Fortunately, there are infinite possibilities for similar tie-ups between brands which customers shop weekly, monthly or several times a year.
For some comparable examples, in totally different sectors…
Nike x Spotify
In 2015, it became possible to hook up your Spotify account to Nike's running app. For the launch campaign, customers were encouraged to create a running playlist and were rewarded with a free, week-long trial of Spotify premium.
This creates immediate customer value because runners often like to track their fitness, and listen to music. Doing this with one app is a lot more convenient for the customer than doing it with two.
If Spotify and Nike shared their data effectively around this campaign, they would have harnessed some incredibly useful data, such as:
knowing how often people run and for how long (which might help you calculate when someone might be ready to buy a new pair of sneakers)
knowing which music customers like to listen to when they run (enabling relevant song suggestions of a similar tempo and style)
When I worked for an online travel agency, we found a very strong correlation between a customer's music preferences and their preferred style of vacation. So, such shared insight could help the brands become more useful and valuable to their shared customers.
Three x easyJet
Three, a UK telco, partnered with easyJet to target young weekend travelers. Three was marketing a 'Go Roam' package which allowed customers to use their cellphone packages abroad with no extra fees.
Customers of Three who signed up for 'Go Roam' were rewarded with free checked baggage and priority boarding when they flew with easyJet.
It's possible Three paid a reduced rate to easyJet for those flight upgrades; or, both brands may simply have calculated that this new, co-created value would attract enough of the right customers in common to make the collaboration worthwhile.
In reality, the incremental cost to handle a few extra bags, or to allow early boarding, has close to zero incremental cost for an airline. Equally in retail and dining: special offers or bonus points can be easily created with excess inventory or capacity to get a customer's attention.
*
These are just a couple of examples; brainstorming partnerships like this is fairly easy. You might, for instance, brainstorm a partnership between:
a retailer and a baby formula brand. If a customer suddenly starts buying baby formula, their needs for clothing, services, housewares, etc. will change. And, you know that 2, 4, 6, 10, 15 and 18 years later the family's needs will change again.
a restaurant chain and a grocer. The customer starts buying a lot of ingredients popularly used in Japanese cooking; that would be the perfect moment to send them offers at local Japanese restaurants.
The kinds of cultural insights, as in the second example, could be equally valuable in co-creating value among entertainment venues such as museums, galleries and events companies.
As every brand partnership sheds further data, brands can strive for a network of partners which intersects the customer's every spending category, and gives them the opportunity to earn and burn points in the program with the majority of their monthly spending.
This becomes a powerful flywheel for value creation among the partners, and importantly, for the customers.
Identifying profitable new partners efficiently
Of course, the more partnerships you forge in new categories of spend, the more likely you are to partner with smaller and/or local companies – such as retailers, entertainment brands or media publishers – which add more personal value for more precise customer segments.
These smaller companies likely aren't in the sights of your business development team – and that's not because they're not potentially profitable. While some individual partnerships may be less lucrative, they can still be instrumental in building a bond of loyalty in your collaboration network, and be highly relevant to some segments that are not so loyal today.
Ultimately, successfully engaging the mid-long tail customer is the biggest commercial opportunity at most brands, because these people are already spending money in your category; it is just that you have not provided the right incentives (yet) to capture the majority of their category spend.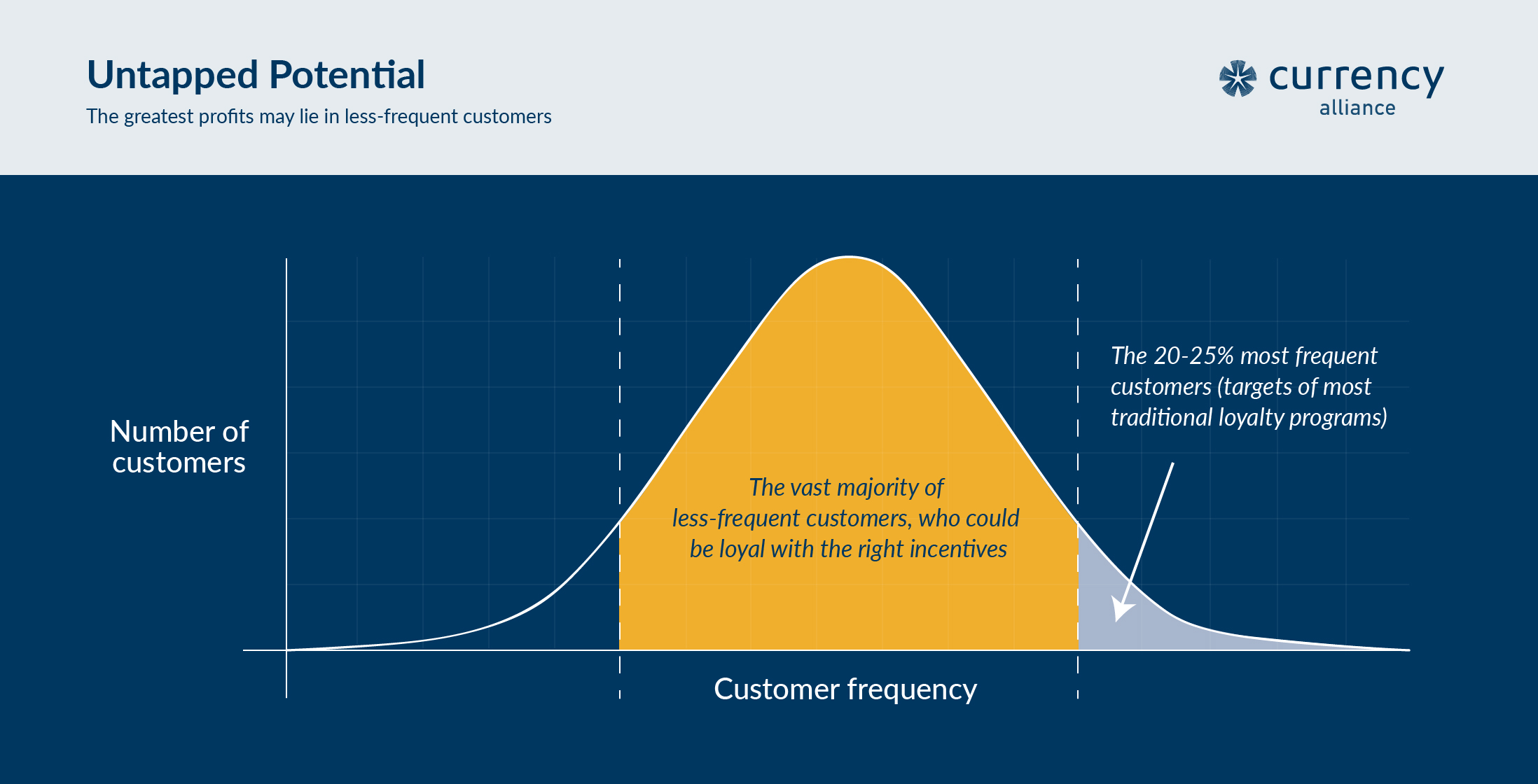 The difficulty is that building the perfect mix of partnerships takes time. Therefore, we recommend you start this journey with patience. Perhaps set a goal to have ten profitable partnerships in three years. That means you only need two in the first year. Once started, another three partners can be added more easily in year two. By year three, some of the potential partners that did not engage in year one or two will be ready to start and your success will attract plenty more to achieve this modest, but powerful goal.
You can also ask Currency Alliance for help. It is our specialty to introduce complementary partners to each other, and you might also find a number of great potential partners who are already using the Currency Alliance platform. You can also use our platform to efficiently integrate with your partner's loyalty platform, and manage the operational aspects of the partnerships.
Our Global Loyalty Marketplace was built to allow brands to integrate for free, in a matter of days, simply by connecting to the existing loyalty platform, POS, CRM, or other system using an easy API.
We also make it easier for any customer touchpoint to become loyalty-enabled. Using our microservice Points Bank and Loyalty Rules Engine, any touchpoint can become an 'earn' or 'burn opportunity, whether that's a transaction, a customer service chat or any digital experience you want to incentivize.
The second step is to apply loyalty mechanics to increase the lifetime value of every customer. There's a host of different tactics you could deploy to bring partnerships to life, such as…
Exchanging loyalty currencies with other brands
Many loyalty programs allow customers to exchange points from one to the other – but data sharing between partners is usually relatively poor. Ideally, you should be able to monitor these transactions in real-time and use them as a source of inspiration for new ways to co-create customer value.
If you notice a lot of exchange activity with one program, you might propose working with that brand on a new campaign, or decide to offer that brand's products or services as redemption options in your own program. At the very least, those peaks in engagement might suggest you partner with more brands in similar or related categories.
Applying loyalty mechanics at more customer touchpoints
Your customers are likely dropping clues, about their interests, in many of their interactions with your brand. Some of the most powerful data might come from non-transactional touchpoints, such as your customer service channels.
"This is way better service than I get from that other brand."
…or…
"I get way better service with that other brand!"
Equally, social media, product reviews, customer referrals, and other touchpoints could become loyalty-enabled. If customers can earn points by doing things useful to your business, you should motivate more customers to engage by issuing rewards at these touchpoints
Incentivize co-creation with loyalty currencies
Both Bank of America and Ikea, which launched a gamified co-creation effort for new products in 2018, issued cash rewards to motivate participation in their campaigns.
They might have done so more affordably by issuing reward currencies: either their own, or the loyalty points/miles already valued by their customers.
That would have enhanced the co-creation effort as a loyalty driver, and also driven down the cost of running it – allowing many more co-creation campaigns to be run for the same budget.
*
These are just a few examples; the point is, the co-creation of value for your loyalty program members no longer needs to be a monumental effort. Loyalty partnerships are growing so rapidly, that this is something you will likely embrace anyway – so better to be an early mover. If you're a latecomer, you might actually find yourself locked out of important partnerships because a competitor got there first.
Start small, think big
The required cultural shift, for established loyalty programs to refocus energies on medium-sized and smaller partners, may be the biggest obstacle of all.
But, for those with few partners today, building out an open network of collaborating brands represents a clean slate. You can pick and choose how to proceed in a way that maximizes benefits for each stakeholder. And, you are not constrained by legacy technology or bureaucratic processes.
In all probability, it will be smaller companies that pull this off first, while larger, better-established businesses continue to fall behind due to corporate inertia. But for any larger brands which can get over this hill, it has the potential to be game-changer.
I can tell you that a few of our clients are already realizing so much value from our B2B Loyalty Marketplace and partner collaboration tools, that they are proactively encouraging their existing partners to change how they connect as well. Many of those partners then discover the platform tools for partner discovery, commercial contracting, reporting, reconciliation, and settlement and realize such benefits that they too use the platform to manage existing partnerships and to forge new ones.
This network effect is reducing everyone's costs, while making partner management much more efficient – allowing their people to work on higher-value activities that they enjoy.
Contact us to learn more about the power of loyalty partnerships.