More supermarkets are migrating to points-based, partner loyalty – and those that already have such programs are working to become more sophisticated.
This article explains:
State of play: a shift towards smarter supermarket loyalty
One of the earliest loyalty programs came out of the grocery sector. S&H's began selling their Green Stamps to retailers in 1896.
In some ways, it's surprising how little the supermarket industry has moved on.
Broadly speaking, most of the chains' loyalty efforts have been in proprietary, albeit digitalized versions of the original S&H program: collecting in order to redeem for rewards, some digital couponing, and pushing out offers via a mobile app.
We estimate only about a third of grocery chains worldwide operate a points-based rewards program. Another third use some form of cashback discounting program, and the rest either have nothing or rely on some form of non-personalized discounts, often funded by FMCG/CPG.
Despite some commendable efforts – such as those by Tesco (with its attractive redemption value) and Pick 'n' Pay (with its openness to collaborate with other brands) – most include only piecemeal achievements.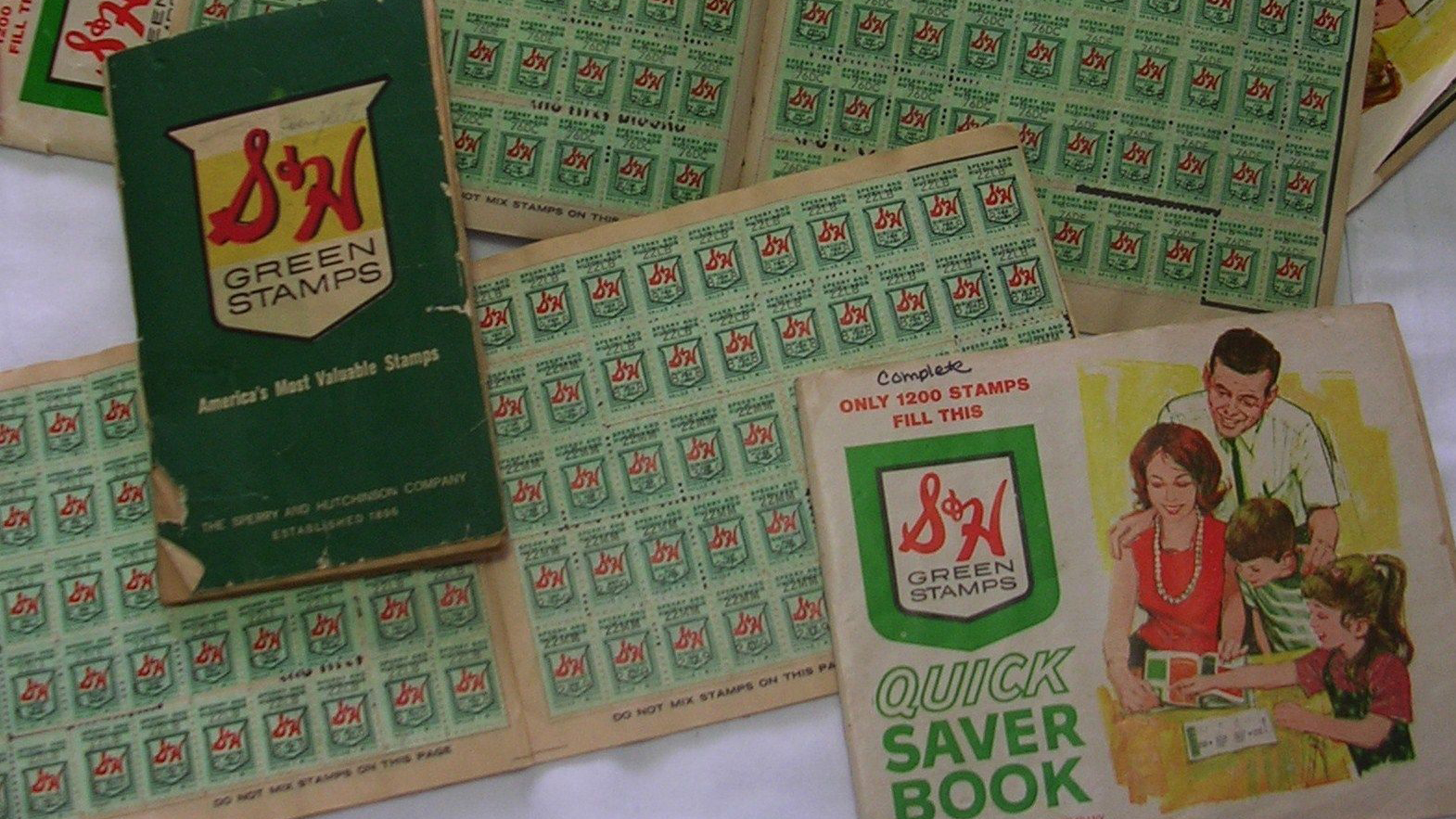 The multi-brand coalition model, in which most of the value can be realized by a grocer, has only partially taken hold in the UK, Canada, Australia and a few other markets. Yet even in those countries, constraints remain that limit a customer's benefit.
We acknowledge this is partly because grocers have been busy with other important things.
During the past two decades, medium and larger grocers have invested heavily in reducing their cost structure to remain competitive and making the in-store experience much more delightful.
So, while the selection, value and shopping experience has improved, the same efforts across virtually every grocer resulted in little final differentiation between competitors.
The digital coupons that are a primary feature of most grocery schemes are …replicated across all of the programs…which limits the loyalty impact.'[i]
Sameness even extends to discounting.
Grocers have engaged in counter-productive price wars, which have been found by Australian competitors Coles and Woolworths to undermine customers' trust[ii].
For an industry of such powerful businesses, which have embraced technology for decades, this is a missed opportunity.
Surveys[iii] show supermarket customers are primarily motivated by functional drivers: value, and convenience.
Loyalty programs are essentially a value exchange. Customers understand this, and they have demonstrated they are willing to allocate share of wallet and share their data in exchange for the value of greater personalization, recognition and positive experiences.
Some supermarkets think they can't afford this kind of loyalty marketing (more commonly associated with the travel sector), due to their low margins. Actually, they could profit from it handsomely.
Thanks to supermarkets' high customer frequency and good data analytics, grocery chains can dynamically apply different points earning levels based on the available margin on each item sold, FMCG/CPG-funded offers, and insight about the share of wallet they are getting from each customer.
Furthermore, many other brands would happily invest in the grocer's loyalty currency in exchange for the rich customer insight that could be shared and lowering other forms of marketing cost.
Beyond that, by collaborating with brands in every spending category, and by adopting other, progressive loyalty tactics, a supermarket could operate a program that drives much higher footfall, and is much harder for competitors to copy.
The result of this, if done well, will not be a radical shake-up of the entire market. You will never outcompete the convenience of a store located right by a customer's home.
But the reward, for the grocer that gets there first, could be huge.
With the right collaboration among complementary brands, a grocer could easily operate the leading loyalty program in any given country.
An effective coalition of the right mix of partners could represent 50-70% of a customer's monthly discretionary spending, and that could shift 10% market share by the brand that gets it right.
A winning program in the grocery sector
The infographic below shows the range of categories in which a typical customer spends their disposable income, and the useful data that a supermarket could leverage from partnerships in each category.
A grocer would be well-placed to anchor brands from each category in a powerful loyalty coalition. That coalition could share a common loyalty currency, but it is not a requirement for success to have only one loyalty currency if the partners have their own and enable exchange. It is important to not let a third party with high cost run the program and be the broker between participating brands.
Partners should collaborate as peers with a thin layer of low cost-technology that glues them together.
Note that this graphic is a simplification, as it only shows example data benefits to the originating supermarket brand.
Click here to view the infographic full-screen.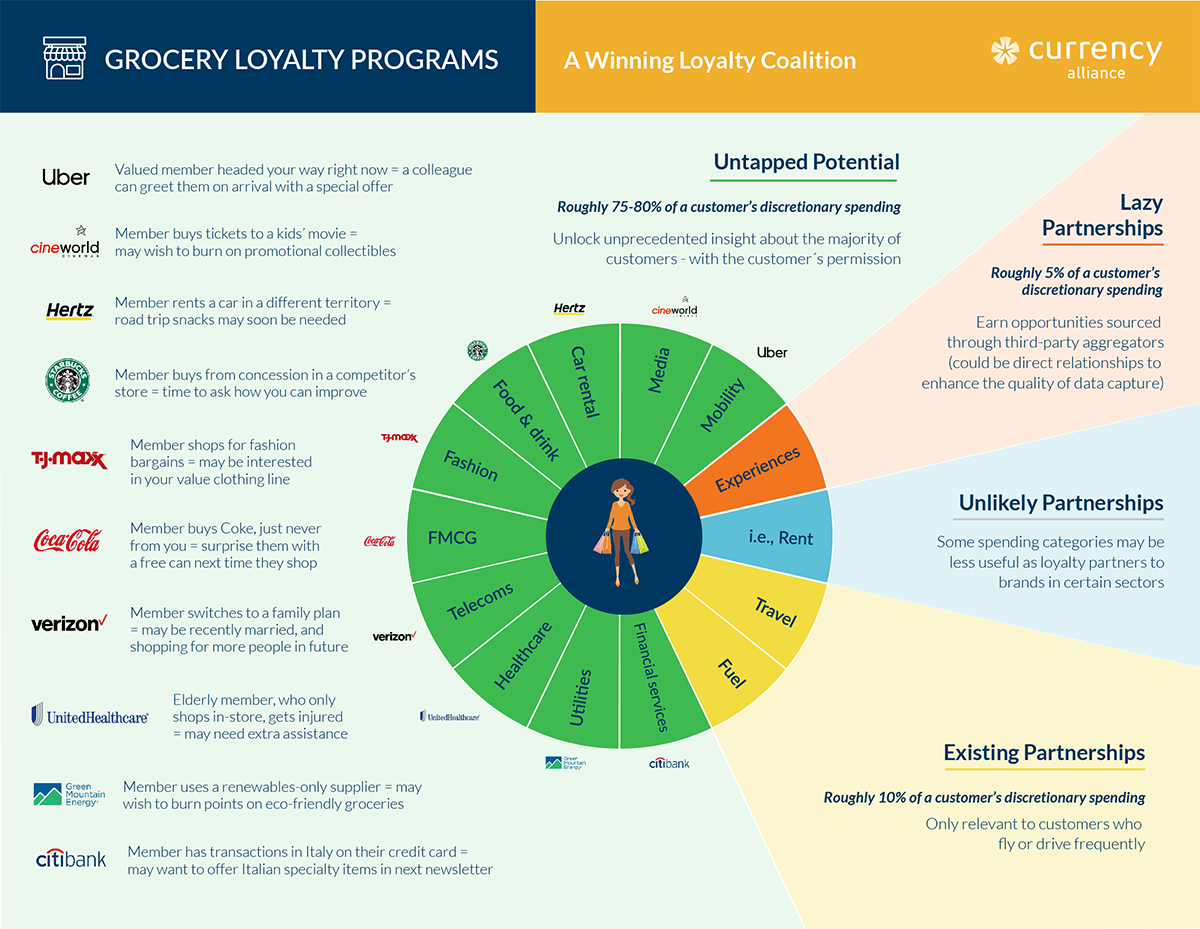 In fact, both earn and burn partners could benefit greatly from shared insight into the member's family size, economic wellbeing, state of health, frequency of extended travel, and much more – which they may not necessarily learn from the member's interactions with their own brand.
Earn' partners in the space are relatively rare, but Nectar (which Sainsbury's recently brought in house) and flybuys (which Coles now jointly owns) – have a broad network of 'earn and burn' partners.
To see how valuable these partnerships could be, with proper data sharing, consider a partnership with a hotel.
The member may tend to buy white label goods or discount brands – and so the supermarket might assume the customer is always a low spender. But if it then emerges that the customer has made an expensive hotel booking, that might suggest they save in order to splash out once in a while. Perhaps around their birthday or at festive time, they'd be tempted by smoked salmon or other premium goods.
Or, the partnership with a telecoms provider.
The supermarket could learn if the customer develops an interest in Japanese cinema, and then issue relevant offers on Japanese food products. Equally, the media provider could guess from the customer's shopping basket what other kinds of content they may be interested in.
As entities with a significant physical footprint and community presence, supermarkets should also include smaller or local organizations in their programs.
A lot of supermarkets, for instance, operate charity initiatives in-store: bagging services in exchange for donations, or a token system to donate a portion of profits off your purchase to a charity of your choice[iv].
US chain Kroger allows customers to donate points to community initiatives.[v]
Many a customer could be delighted to see messaging from their favorite charity in their supermarket loyalty app (and many a charity would love to know their messaging is reaching the right members of your program).
That's a powerful emotional driver which could create real stickiness.
Of course, brands need to be careful to not use shared insight in a way that spooks the customer. Customers will need to grant permission for their data to be used, but that shouldn't be an issue. If your brand gains a reputation for using customers' data to create genuine relevance, the majority of people have demonstrated they are willing to share data, as this study in Harvard Business Review shows.
So there's a lot that can be done with partnerships.
But each individual tactic may only appeal to a small portion of your customers.
The key is to allow customers the freedom to earn and redeem their points value as they wish, with a wide range of partner brands, across their choice of digital and offline channels.
From that collaboration, you will find out what each customer values – and targeted messaging can be honed to optimize relevance.
The best grocery programs worldwide
There are a few good grocery programs today, but no great ones. However, by copying the best bits of the best programs, a single grocer could create a far more powerful loyalty proposition.
One program that offers very good value to a majority of their customers is Tesco Clubcard – which has focused on getting partners to offer redemption options that have a perceived value of three times the customer's perceived cost (and probably four times Tesco's actual cost).
The program has many 'burn' partners, in many categories, and it clearly communicates the good redemption value of offers with these brands.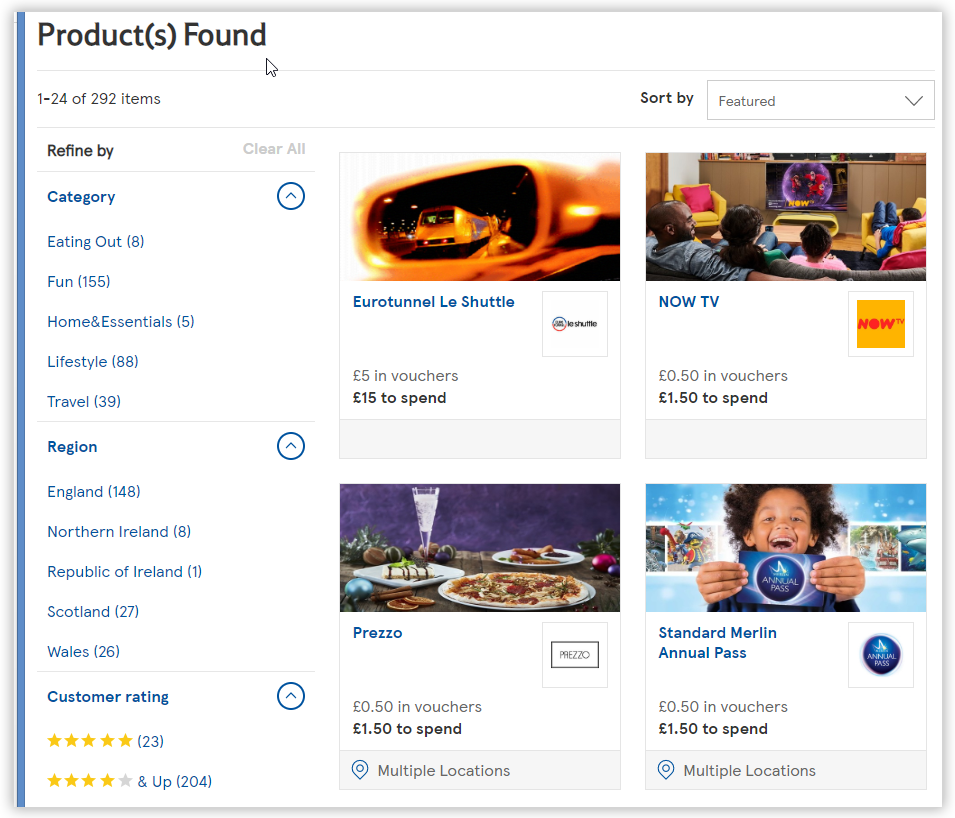 It also rewards customers with points for participating in product reviews – providing valuable feedback data – and the opportunity for customers to earn on non-purchase touchpoints.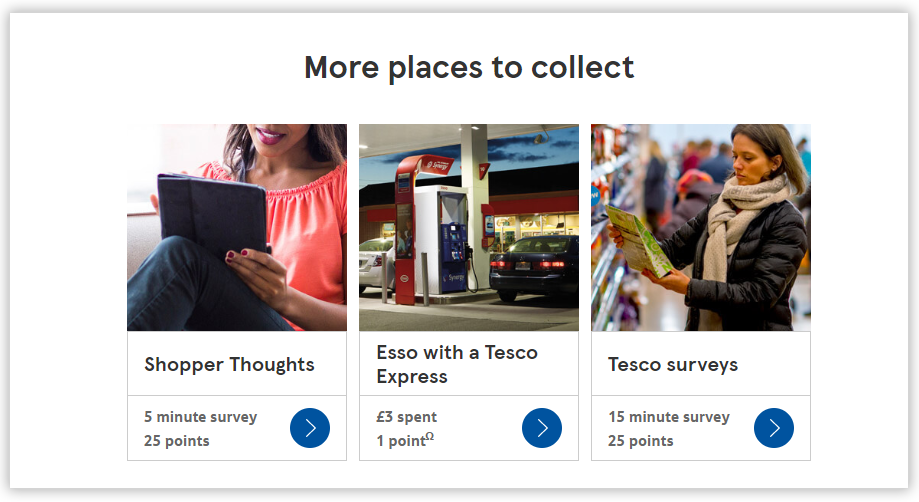 Tesco has also made a lot of progress in the way it communicates the benefits of its program, with a lot of digital UX enhancements.
As a result, the supermarket's NPS has gone up and up. Its 2019 annual report attributes this to '…a refresh of the Clubcard app with Faster Vouchers functionality, with users up 34% year-on-year'.
All that said, the program isn't perfect.
For one, it has made a number of changes recently which seem more focused on saving money, rather than delivering more customer value.
In early 2018, the supermarket issued a 'slap in the face to loyal customers' when it slashed the value of its points, replacing mostly 4x redemptions with 3x redemptions.
£1.50 in Clubcard points was worth £6 in rewards tokens.

But on 15th January, Tesco cut the value of these tokens, which meant £1.50 in Clubcard points was worth £4.50.[vi]
Many 'burn' partners were also recently culled. Granted, a lot of 'partnerships' remain: 289 of them. But almost all of these 'burn' partners seem likely to have been aggregated by a third-party technology partner. If so, Tesco is unlikely to be benefitting from some of the valuable insights as described in our infographic above, because the intermediary probably isn't sharing much detail.
More significantly, Tesco only has one 'earn' partner: Esso fuel stations.
Carrefour in Spain is basically the opposite of Tesco, in that they have numerous earn partners, but spending accumulated value can only be done at Carrefour – via vouchers.[vii]
These 'earn' partners are where retailers in other territories have made real gains.
In South Africa, the second-most popular loyalty program (in any industry), is Pick 'n' Pay's 'Smart Shopper' program.
Currency Alliance knows from speaking to Steve Hoban, who headed up Smart Shopper at Pick 'n' Pay for several years, that the addition of direct, data-sharing partnerships drove much higher program engagement.
But South Africa's first-place ranked program isn't a grocer at all, but a pharmacy.

Despite occupying a very small share of a customer's disposable income, the Click pharmacy chain boasts 72% of the country's adult population enrolled (vs. Pick 'n' Pay's 60%, and Woolworths' 46%[viii]).
You can attribute this directly to the fact that the pharmacy chain has more 'earn' partners, in more categories, than either of its grocery competitors. To list a few:
Related health & beauty brands (Claire's, The Body Shop, Specsavers, etc.)
Musica (entertainment)
Town Lodge Hotels
Europcar
Net Florist
Engen (fuel)
This is impressive stuff.
At Woolworths, partners appear to be practically non-existent. Their website only mentions partnerships with a charity, a kids' clothing label and a health insurance brand – and those partnerships may benefit the other brands more than Woolworths.
Of course, loyalty programs partly reflect their local economies.
Without Clubcard, Tesco would be the biggest grocer anyway, because it has stores everywhere, which sell practically everything.
So ubiquitous is Tesco, the brand can be a lightning rod for the evils of corporate consumerism. In 2011, the opening of a new store sparked days of riots in the city of Bristol, a hub for anti-establishment culture[ix].
There are cheaper places to shop (Asda, Morrisons, and the discounters) but Tesco has a better in-store experience, and it's just so convenient that no other supermarket to date has been able to compete[x].
This has effectively given Tesco a green light to overlook fully-evolved coalition loyalty, without any reason to fear being usurped. That's a shame.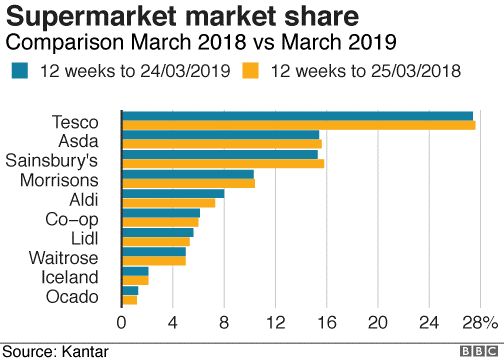 South Africa is a much more competitive market. South Africans are, on average, less wealthy than in Europe or North America, and so probably more motivated to earn and save rewards. This has, in turn, made their loyalty space more hotly-contested.
Click has exploited this masterfully.
So this should be a warning for any big grocery loyalty program.
Even if you think you'll always be the largest supermarket, a competing loyalty program, which uses coalition loyalty to get the upper hand in capturing customer engagement, could easily shift a lot of customer affinity away from your brand.
How supermarkets can profit from loyalty currencies
Some people protest that margins are too low in grocery, to fund points.
This is nonsense. Supermarkets can tailor the value given customers based on many factors – and most importantly get collaborating brands to subsidize the value delivered to customers. The trick is understanding where value is created, and optimizing both the 'earn' and 'burn' sides of the program, while giving customers sufficient freedom to use the currency to achieve personal objectives.
In your own ecosystem, with the right data analytics, you can ensure points are only issued where they drive desirable customer behaviors, and are likely to increase customer lifetime value.
Currency Alliance wrote recently on the profligate waste of issuing a blanket 1% in points across your entire portfolio.
Intelligent supermarkets don't do this.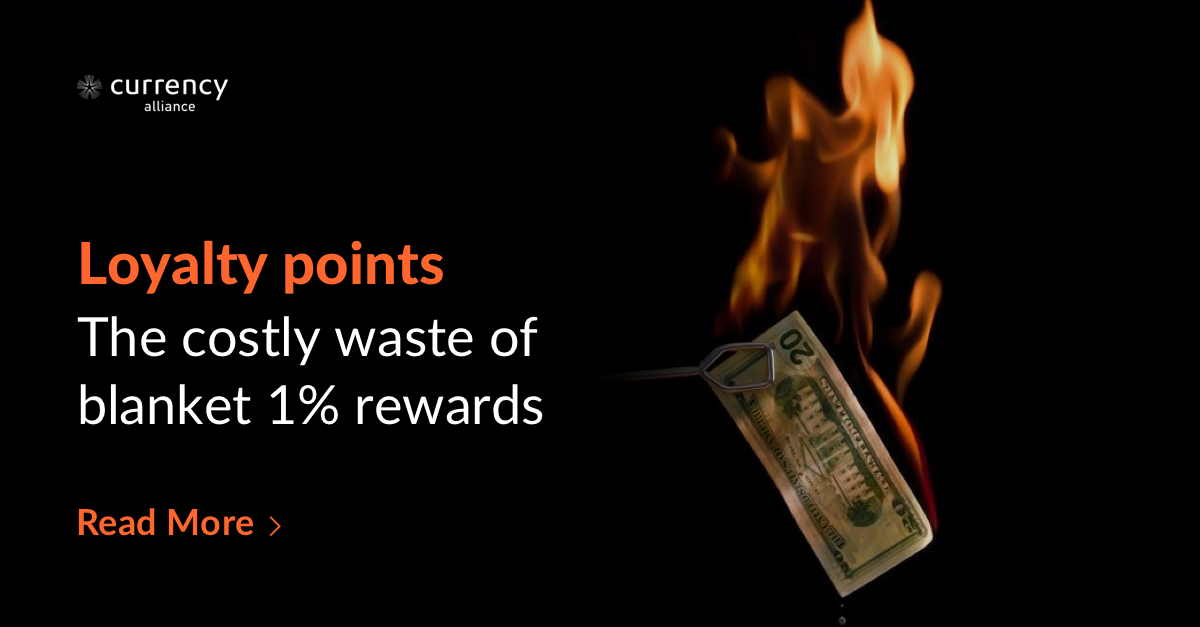 US supermarket Kroger issues double points for using the Kroger Pay mobile app[xi] – because it allows them to collect a lot more useful data within a powerful marketing channel.
Following changes in 2017, Pick 'n' Pay Smart Shopper…
'…is now significantly cheaper for the Group to run, with cost savings reinvested in lower prices for customers. The increase in product-specific discounts has delivered stronger customer advocacy and enabled greater supplier participation and funding. We offered R3 billion [$200M USD] in personal discounts to our seven million Smart Shoppers this year, and saw the redemption of personalised vouchers double.'[xii]
Even without data analytics and personalized offers, supermarkets can vary rewards pricing across the portfolio to better manage profitability.
On low margin items, you can still give 0.25% or 0.5% in points, but on manufacturer-funded specials, you will be able to offer more. On higher-margin items, or items which may be about to perish, you can bump the earning and communicate via digital channels or in-store signage to stimulate demand.
You can also sell points to partners. The greatest benefit of this is that it enables complementary brands, that are relevant to your customers and which want to attract their patronage, to issue your points to common customers. This broadens the reach of the program. But the sale of points can also become a new revenue stream, which can subsidize operating costs, if you sell these points to partners at a cost that is higher than the estimated cost of redemption.
If the customer's perceived value is three times higher than the estimated average cost of redemption (as with most Tesco Clubcard offers), you can sell points to partners for 1.2 – 1.5 times that cost and value is created for all stakeholders.
The flybuys program, operated by Australia's Coles' supermarket, makes a good case study.
flybuys points can be earned with many different partner brands:
banking (Citi)
utilities (AGL)
fashion (Adidas)
consumer goods (Fitbit)
retail (eBay, Target, various liquor stores)
travel (Budget car rental, Velocity)
various fuel chains.
…and this lent Coles a great advantage over its nearest competitor. Woolworths wasn't able to add any program partners independently, as it used to issue only Qantas Frequent Flyer points[xiii] (in 2020, it now has its own currency).
Your program also needs 'burn' partners.
While burn partners may be a direct cost (you must pay another brand to provide a product or experience on your behalf), you can make that cost lower than the customer's perceived value by getting the burn partner to factor significant discounts into the redemption offer.
For example, Pizza Express in the UK gives Tesco customers a £15 discount coupon for about £5 paid by Tesco. That is very material to many customers, but also quite profitable to Pizza Express – since they know that on average the £15 voucher will be used by a family or group that spends £40-60 during their visit (all on food and beverage with 70%+ margins).
Similarly, tickets to theme parks during off-peak season may have a list price of $40 – but only cost you $8 in points. Many service providers will happily offer two-for-one deals as redemption options.
A portion of customers don't find it very exciting to get a free sack of potatoes after spending $400 on groceries this month. But getting a 25€ gift certificate for KLM every three months will really appeal to some segments. That makes your program seem a lot more worthwhile to people who aspire to travel. Other deals could appeal to those who cherish their garden or want to enhance family experiences.
Finally, exchange partners can appeal to a wide audience – i.e., Tesco Clubcard exchanging to Avios.
The best value customers receive should be when redeeming your own currency within the store or with burn partners making offers directly to your customers. However, to maximize perceived value, customers should have the freedom to exchange into other programs where memorable experiences, which have high perceived value to specific customers, can be obtained. Those exchanges might be to a wide selection of gift cards or to hotel and airline loyalty schemes.
When points are redeemed outside your program, you can allocate an exchange value that is lower than the cost if the customer redeemed with you in order to reinforce the highest value exists when points are used within your ecosystem.
In this arrangement, you do pay the partner to take on the points liability. But if you set the exchange rate wisely, the out-of-pocket cost could be less than the estimated liability, so the difference becomes a profit.
So every formulation of a points partnership should enhance customer lifetime value.
The key is to ensure that the profits you seek aren't unreasonable. This was another factor that adversely affected Woolworths supermarket.
'flybuys points were cheaper for Coles to issue compared with Qantas Points for Woolworths. The cost of a flybuys point to Coles was 0.5c, compared to an estimated more than 1c for Qantas Points, which allowed flybuys to promote double and triple points offers, which Woolworths could not match.'[xiv]
So if your points aren't too expensive, many other brands will want to issue them, and this will generate plenty of value for the customer, motivating them to engage with the program's partners, and return to your store in order to earn more points.
There are other things you can do, too.
You can use points to drive better customer service in-store.
In a survey of 15,000 supermarket customers, only one emotional factor was highlighted as a key loyalty driver: friendly staff helping to make shopping a great experience.
Customers could even give employees points to reward them for exceptional service, thus motivating staff to recruit customers, promote specials, happily answer questions and actually know the program well because they use it themselves.
Your goods suppliers could fund your points, instead of funding discounts. FMCG marketing funds are significant and can often be used for direct incentives rather than just below the line advertising.
You can offer points redemptions on free delivery.
Uber, Grab, or a local taxi company could bring  customer to the store at a subsidized cost.
I could go on.
The point is that, in an effective program, points are an investment and a cost. Their cost should be expensed as a cost of sale, but the value they represent turns out to be an investment that drives future customer engagement and should ultimately cost less than the customer's perceived value.
Increased share of wallet, customer engagement, better insight, and lower cost of customer retention should be your reward.
Foundations for success
The typical supermarket has a lot of advantages which ought to aid its establishment of a dynamic and powerful coalition loyalty program.
Supermarkets have the magically-important aspect of frequency. Few brands have the opportunity to engage with customers nearly every week around something as important as their family's food.
Supermarkets are also often technologically advanced businesses with solid investments in martech and marketing talent. So while coalitions have traditionally suffered from value leakage that went to an expensive third-party intermediary running the program – and indirectly competing with the interests of partners –supermarkets don't face the same problem.
So unsurprisingly, engagement innovation is taking place – just not evenly across the industry.
Pick 'n' Pay's app enables instant redemptions at checkout[xv]. Woolworth's app serves as a rich media engagement channel: 'all the fashion how-to's, inspiring recipes, fresh ideas and benefits unpacked to get the most out of your WRewards'[xvi].
A recent revamp of the Nectar app… 'means customers will get unique offers via the app or on the website every week'[xvii].
In the US, the Albertson's chain's new Just for U app… 'will collect information about customers' shopping habits, and subsequently begin suggesting more personalized coupon choices alongside manufacturers' coupons[xviii].
The sector also has the funding to provide meaningful rewards.
Coles & Woolworths have both launched loyalty campaigns involving collectables, such as…
'…Coles' Little Shop, a promotion where customers spending $30 or more would receive a collectable miniature version of a product sold at the store. At the end of that quarter, the company reported a 5.8% lift in recorded sales.

…Woolworths, on the same day that Coles launched Little Shop 2, released its Ooshies campaign, featuring characters from this year's CGI remake of the popular The Lion King animated movie.' [xix]
Doubtless, this generates a lot of short-term affinity.
But it rings of the same 'Surprise and Delight' initiatives which proved so unsuccessful with the Nectar program under Aimia. Back in 2014, Nectar operated a 'Thanks a Million' campaign in which customers could receive a surprise of a million bonus points upon paying with the various brands in the program[xx].
At the time. Nectar was the UK's most popular program[xxi]. But although surprise and delight may create a buzz among existing customers, it only benefits the frequent customer, and actually detracts from increasing share of wallet with the mid-tail and longer-tail customer – who is obviously buying food somewhere – and from whom the greatest incremental revenue can be generated.
Campaigns such as 'Thanks a Million' could not compensate for the fact that many brands left the Nectar program[xxii], reducing the usefulness of the points. Eventually, the program was sold to Sainsbury's, having been superseded by Tesco Clubcard in the popularity stakes.
Such surprise and delight initiatives are everywhere. I got a free Coca-Cola serving tray at my local supermarket, Caprabo, in Barcelona last week, but the personalization of their program is practically non-existent.
With more trust in effective loyalty mechanics, and better use of customer data, all this investment could have been funnelled into more progressive coalition loyalty marketing, with far greater promise of ROI, and a real promise of improvement in customer lifetime value.
I'll come back to a store if it's convenient and good value – not because of tacky gifts.
It's also worth recognizing that intelligent data management is now far cheaper than it was previously.
Data business such as IRI Worldwide and Nielsen have significant portfolios of sell-out data (i.e., customer data, usually anonymised) that could be harvested with appropriate customer consent. They have driven down the costs of data analysis, allowing businesses to understand smaller segments of their customers than was possible previously, and tailor offers accordingly.
Cobranded credit cards, too, are now cheaper and more effective than ever before. The likes of Wirecard are offering powerful enhancements, such as mobile payments integrations. This can elevate the card from a simple earning opportunity (off interchange fees) to a powerful tool for data collection and the issuance of relevant offers.
In fact, if the grocer offers a payment card, customers could earn loyalty points in many purchases outside the supermarket with bonuses from partner merchants – all with no required changes to point-of-sale systems.
The barriers to entry, for supermarkets into coalition loyalty, are becoming lower by the day.
A more competitive grocery landscape
As stated at the beginning, we are not discussing radical upheaval of the grocer's business.
But new competitive factors in the industry are emerging.
The 'footprint' of a supermarket has grown, from its physical footprint, to include the various digital channels with which they engage customers.
As Harvard Business Review reports, 'The nature of customer loyalty is changing as shoppers get more comfortable buying groceries online — prioritizing convenience, choice, and ease over physical proximity to a store.'
Australia's Coles has teamed up with Ocado, an online grocery website that specialises in optimising digital shopping experiences, packing technology and home delivery.
And in Germany, discounter supermarket Lidl operates a loyalty program called Lidl Plus.
'After a one-time registration, customers will receive a virtual bonus card on their smartphones, which can be scanned at the register during checkout. Coupons are automatically taken into account in the final price calculation. Once users reach specific spending milestones, they will either receive virtual vouchers for the next visit or free products.'[xxiii]
It also recently launched Lidl Pay in Germany, a distinct payment provider to compete with Apple Pay and Google, and retain ownership of their customer relationships.
Commentators suggest Lidl will soon use its digital prowess as a launch pad for a renewed assault on the UK market (and eventually other countries where they operate).
And online orders, currently only a few percent of the industry total, could comprise up to 20% of the market by 2025, according to an FMI-Nielsen report[xxiv].
I think that's an over-estimate – but even 15% represents huge volume.
The point is that the online world, for supermarkets, is still relatively unmapped territory, and it presents a significant new opportunity for incremental revenue.
The issue then is how you capture that opportunity for your brand, and make sure it doesn't benefit a competitor instead.
Of course, you should invest in digital CX and online ordering. But trying to win a 'digital arms race' will not secure your victory in the next 20 years – any more than the price wars, or the battle for the winning in-store experience, secured victory for any supermarket in the last 20 years.
Indeed, the digital arms race has now seen its first major spat.
As a direct answer to Amazon Prime, Tesco has created new convenience and value by creating Clubcard Plus, a subscription program. It represents roughly 10% savings on two shopping trips per month in exchange for £7.99 in recurring fees. That will appeal to existing, frequent customers, but will it convince those that shop around to allocate more share of wallet to Tesco?
Those that engage with Clubcard Plus are probably already quite loyal. And while this program may capture some incremental spend, my guess is that the £7.99 of subscription revenue will pale in comparison to the 10% discount on the total shopping basket.
I would argue Tesco needs to optimize value for the less frequent customers in order to get them to spend more each month with Tesco.
In grocery, as with every other sector, the ultimate differentiator will be knowledge of each customer, their preferences, and your ability to serve them.
The data to know a customer comes from a loyalty program. And it is augmented by insights from partners that absorb the other 50-70% of a customer's monthly discretionary spend.
Coalition loyalty makes your brand more relevant, and more valuable to every customer – if you have the right mix of partners: spreading the program operating cost, making the points much more useful and valuable to members, and providing many more opportunities to engage with the brand.
Reach every customer with your loyalty program
Modern technology makes it easier to broaden the appeal of your loyalty program.
With Currency Alliance, you can add new program partners in a matter of days. This allows you to test and trial new partnerships, and assemble a mix of partners which appeals to every customer.
Our low-cost SaaS fits as a thin layer over your existing loyalty platform, so there's no need to rip out existing systems.
If you don´t have a loyalty system at all, it is possible to build an amazing solution entirely to your own specifications on top of our powerful API.
Get in touch to find out more, or try Currency Alliance for free today.
References
[i] https://loyalty360.org/content-gallery/daily-news/why-do-grocery-retailers-face-challenges-with-thei
[ii] https://www.news.com.au/finance/business/retail/coles-woolworths-and-aldi-shift-away-from-discounting-in-favour-of-bottomline-boost/news-story/741f65c1c3bd8d24b58c2d559449feb5
[iii] https://www.tccglobal.com/wp-assets/uploads/2019/03/Loyalty-Report-2019.pdf
[iv] https://fundraising.co.uk/2017/06/21/four-big-supermarket-charity-token-schemes/
[v] https://www.annexcloud.com/blog/kroger-grocery-retail-cpg-powerhouse/
[vi] https://www.moneywise.co.uk/news/2018-01-17%E2%80%8C%E2%80%8C/tesco-slashes-value-clubcard-points-change-branded-slap-face-loyal-customers
[vii] https://www.carrefour.es/clubcarrefour/partners/gasolineras-carrefour/
[viii] https://businesstech.co.za/news/banking/289946/these-are-the-most-and-least-popular-loyalty-reward-programmes-in-south-africa-in-2018/
[ix] https://www.independent.co.uk/news/uk/crime/bristol-burns-once-more-as-tesco-riots-return-to-streets-of-stokes-croft-2276837.html
[x] https://www.bbc.co.uk/news/business-47784817
[xi] https://www.pymnts.com/news/mobile-payments/2019/kroger-payment-app-loyalty-rewards-card/
[xii] http://picknpayinvestor.co.za/financials/annual-reports/2018/a-message-from-our-ceo.php
[xiii] https://www.accc.gov.au/system/files/Australian%20Loyalty%20Schemes%20-%20A%20Loyalty%20and%20Reward%20Co%20report%20for%20the%20ACCC.PDF
[xiv] https://www.accc.gov.au/system/files/Australian%20Loyalty%20Schemes%20-%20A%20Loyalty%20and%20Reward%20Co%20report%20for%20the%20ACCC.PDF
[xv] https://www.businesslive.co.za/fm/features/2019-04-04-retailers-cashing-in-on-customer-loyalty/
[xvi] https://www.woolworths.co.za/wrewards/my-wrewards
[xvii] https://www.marketingweek.com/nectar-digital-loyalty-scheme/
[xviii] https://www.retaildive.com/ex/mobilecommercedaily/albertsons-unpacks-mobile-coupons-as-grocery-chains-embrace-mobile
[xix] https://www.canstar.com.au/budgeting/next-big-supermarket-promo-craze-dropped-coles/
[xx] http://www.mynewsdesk.com/uk/nectar/pressreleases/who-wants-to-be-a-nectar-millionaire-1065813
[xxi] https://www.campaignlive.co.uk/article/nectar-uses-ai-loyalty-smarter/1402948
[xxii] https://www.ft.com/content/584f106e-0766-11e8-9650-9c0ad2d7c5b5
[xxiii] https://www.retaildetail.eu/en/news/food/lidl-tests-loyalty-app-germany
[xxiv] https://www.cnbc.com/2017/01/30/online-grocery-sales-set-surge-grabbing-20-percent-of-market-by-2025.html