The overarching loyalty trend of 2020 will continue to be brands getting to grips with digital transformation.
If that sounds like loyalty is late to the party, that's not necessarily a bad thing.
In 'Why so many digital transformations fail', Harvard Business Review cites:
inordinate wastage on proprietary technology
disconnects between company leadership and management
and a kind of digital 'goldrush' without proper strategy
…as some of the major causes.
Loyalty marketing, however, has been restrained (or, arguably, sheltered) by monolithic tech, and probably a lack of interest, as other, sexier marketing innovations stole center-stage.
2020, however, seems likely to be the year in which stars align for a more profitable, productive and open future for loyalty.
Some stars are sticks. There is a growing divide in customer experience delivered by brands whose digital transformations are progressing well, and those being left behind.
Since customers are losing patience with brands that don't recognize them as people, or enable consistent, multi-channel engagement, this priority remains over-arching in 2020.
PSD2, meanwhile, will force open what were once closed loyalty networks, and enable pioneering businesses to prey on any competitor too slow to adapt.
Other stars are carrots. Microservice tools now present a proven, low-cost, agile alternative to risky self-builds or expensive third-party solutions.
Most importantly, understanding of open loyalty theory is finally spreading among practitioners.
Greedily trying to dominate one's own ecosystem is clearly becoming a hindrance if brands really want to influence customer behavior across an entire marketplace.
Through 2020 and beyond, the most successful loyalty brands will harness digital transformation efforts in order to participate in more open loyalty networks, and collaborate far beyond their own garden wall.
Constraining collaboration only constrains your ability to engage and capture insightful data.
So, with that context, what will be the top loyalty trends in 2020?
1. Brands embrace shared environmental goals with customers
Nobody in loyalty could have missed The Times' headline in October, about the Committee for Climate Change (CCC) proposal to start taxing frequent flyer programs (FFPs), or even to shut them down, under the assumption that they increase flying.
These are misguided headlines.
People need to fly, or want to fly; adding taxes to loyalty programs won't change that. In fact, the WTO anticipates the number of people who fly will grow by 50% over the next 10 years.
But a customer's values have a great deal to do with where they allocate their loyalty, and every business must now start sharing their emissions reduction plans and results, so that customers can feel that they are aligned with a brand that cares enough to measure their impact.
Airlines will spend a good portion of 2020 proving that their programs are fundamental to minimizing the environmental impact as the industry grows.
Retail brands will invest heavily in demonstrating their supply chain is environmentally friendly.
Hotels need to get rid of tiny plastic shampoo bottles (or prove that they are better than alternatives).
People are increasingly aware of 'greenwashing' brands, which claim environmental credibility without acting, so it's critical that operating practices and program design are fully aligned with messaging.
I stay in about 80 hotel rooms per year and it disappoints me a great deal that hotels that say 'put your towel on the rack if you will use it again, or on the floor if you want it replaced', only to have 90% of those hotels clean my towel after I put it on the rack.  I make an effort (which costs me nothing) and (seriously) 90%+ of them don't follow through on their promise.
You could also invite customers to plant trees with your employees one Saturday afternoon, or join you to clear plastic waste from your brand's sponsored two miles of a major artery into your city.
At a minimum, enable the exchange of your loyalty currency into carbon offsets and stop issuing plastic cards.
2. Brands accelerate adoption of microservices to improve agility
At the Loyalty Surgery this year, IBM's Greg Land said that their modern martech trial at Malaysia Airlines performed extremely well, delivering a 43% improvement in ROI.
Nonetheless, the legacy loyalty points bank kept them from innovating more quickly.
For large enterprises, embedded legacy points banks and rules engines continue to be the bottleneck to unleashing more personalized engagement. It can be like having a Formula 1 chassis with a lawnmower engine.
But 2019 has seen a major uptick in brands breaking apart legacy architectures, and 2020 will see microservices embraced across industries and independent of company size.
Google search trends shows a significant recent spike in searches for 'loyalty software', as brands increasingly realize that taking advantage of microservice loyalty modules doesn't mean you must throw out legacy systems. Constraints can often be overcome simply by putting a layer of cloud-based technology in front of aging systems.
The marketing potential of making such upgrades is becoming too great to resist.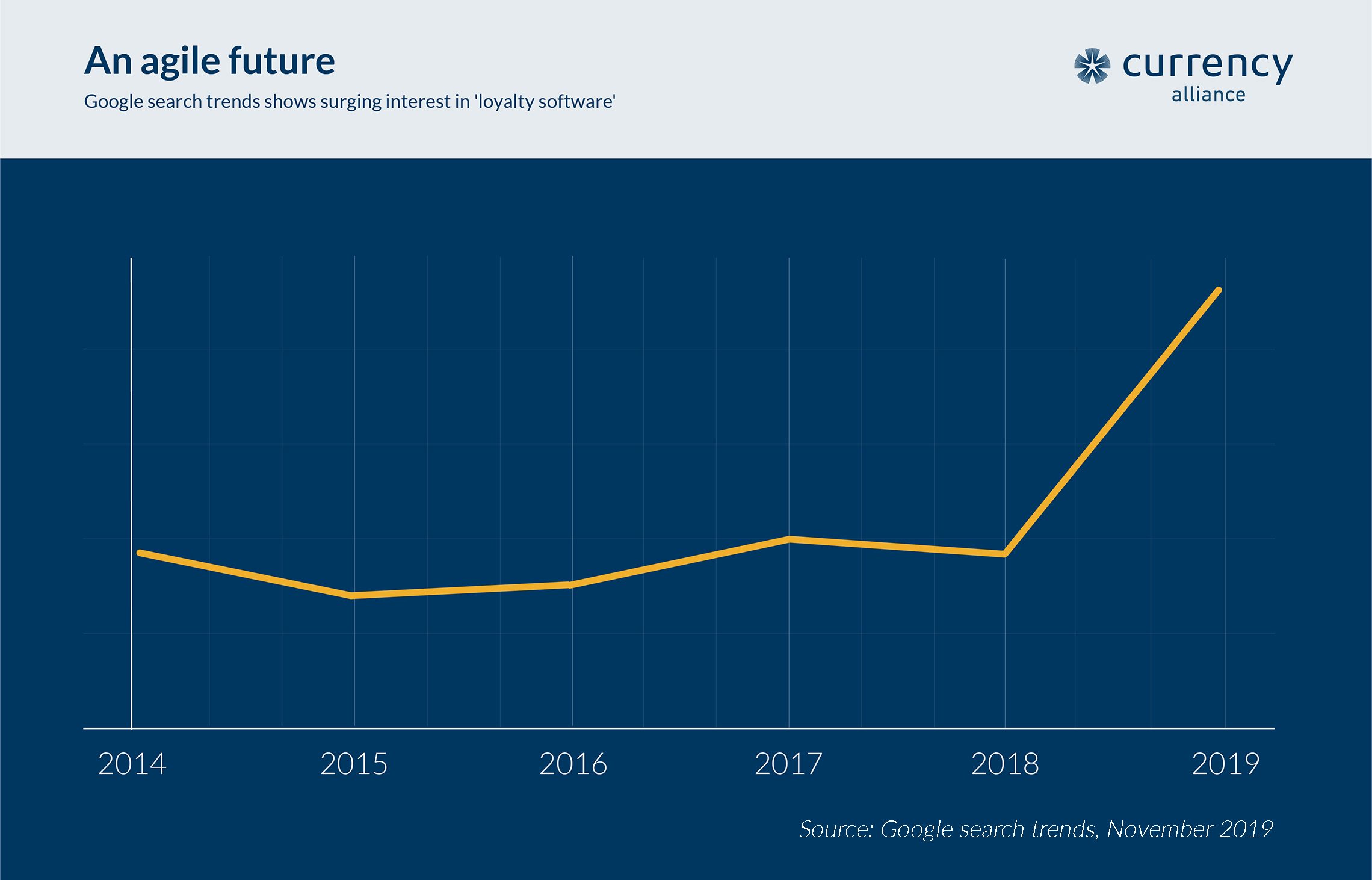 Cloud-based microservices solutions now enable businesses of every size to use loyalty mechanics to engage with customers, proactively anticipate their next needs, and personalize engagement.
DSW, a shoe retailer, built a new loyalty platform on Google Cloud Services, allowing the retailer to 'tailor rewards and offers with a high level of detail, engaging customers as individuals to build emotional loyalty'.
A DSW manager, speaking on the software upgrade, reported…
Shoes may not be something that people buy every day… But when you can keep them engaged with multiple interactions, it keeps DSW in the forefront of their minds.[i]
Historically, medium-sized organizations were largely locked out of loyalty marketing because sophisticated solutions exceeded available budget, and low cost loyalty applications did not adapt to their requirements. With enterprise-scale microservices, every brand can tailor solutions to their unique objectives.
To support digital transformation, your customer data needs to be in a single CRM that actions data using a single campaign management system. Without agile loyalty software to allow a free-flow of data between them, good ideas are hard to execute. 
3. Brands reward more touchpoints to grow emotional loyalty
Reward programs are changing, but they are not going away.
To incentivize customers to progress through purchase funnels, brands are recognizing that additional touchpoints should be rewarded.  For high-end products or services, a customer might have 15-20 non-purchase touchpoints before getting their wallet out.
If some of these are not rewarded, conversion could be a fraction of what is possible.
The tide is turning.
Case studies are now emerging which demonstrate the benefits of rewarding many non-purchase brand interactions.
Tarte Cosmetics, which won an award at the 2019 Loyalty Magazine Awards, 'rewarded members for being engaged, not just for purchases' – and profitably so.
'Loyalty members made up 44% of revenue despite only making up 21% of the client base'[ii].
Case studies such as this back up research by the likes of Brierley & Company, which demonstrate that the 'golden ticket' is to integrate emotional rewards with an underlying layer of transactional loyalty[iii].
The loyalty value exchange must be rational at its foundation, or the emotional stuff on top won't work.
As mentioned, the struggle for many established brands is how to achieve this technologically. Cloud-based tech can solve this problem.
While it might take months to add a non-transactional touchpoint to your legacy systems, agile microservices could bring this down to a matter of hours – with no dependency on the IT department at all.
4. Brands embrace more partnerships to understand lifestyle preferences
Whereas non-purchase incentives may be relatively new, earning and burning with partner brands is well established.
The reason partnerships are a hot topic once more is that data sharing between partners has typically been so poor, it does very little to help each partner better understand the customer's lifestyle interests.
Smart brands are seizing on this unrivalled opportunity to learn more about customers.
Only last week, Skift reported that, 'Booking Holdings sees brand collaborations as key to restoring growth on steroids'. The article explains how the company's foothold with multiple experiential partners has allowed the OTA to build a stash of marketing data with unprecedented detail.
CEO Glenn Fogel said…
Even the largest hotel chain doesn't have full view of their customers like Booking Holdings does, in terms of the type of ground transportation, restaurant reservations, or attractions they want when traveling.
This is so true.
And when OTAs turn up the heat on airlines and hotel groups, the actual suppliers of travel will need to finally start collecting and acting on the data that has been at their disposal for decades.
As we said in 2018 and 2019, knowing only a sliver of information about your most frequent customers is no longer enough. Broader collaboration among complementary brands is the only way to get the next 20-40% of customers active in your loyalty program.
Of course, non-travel and smaller brands across most industries can find partnerships with brands that sell complementary products/services, so that together, they can create more customer value.
For the mid-tail and longer-tail customer, that value derives from being able to earn their favorite currency in many more places, and/or exchange with programs that have more immediate or aspirational benefit.
The by-product will be much richer insight and more engaged customers.
The effort needed to achieve this is now so low, brands are really focusing on the right collaborations to get the right insight.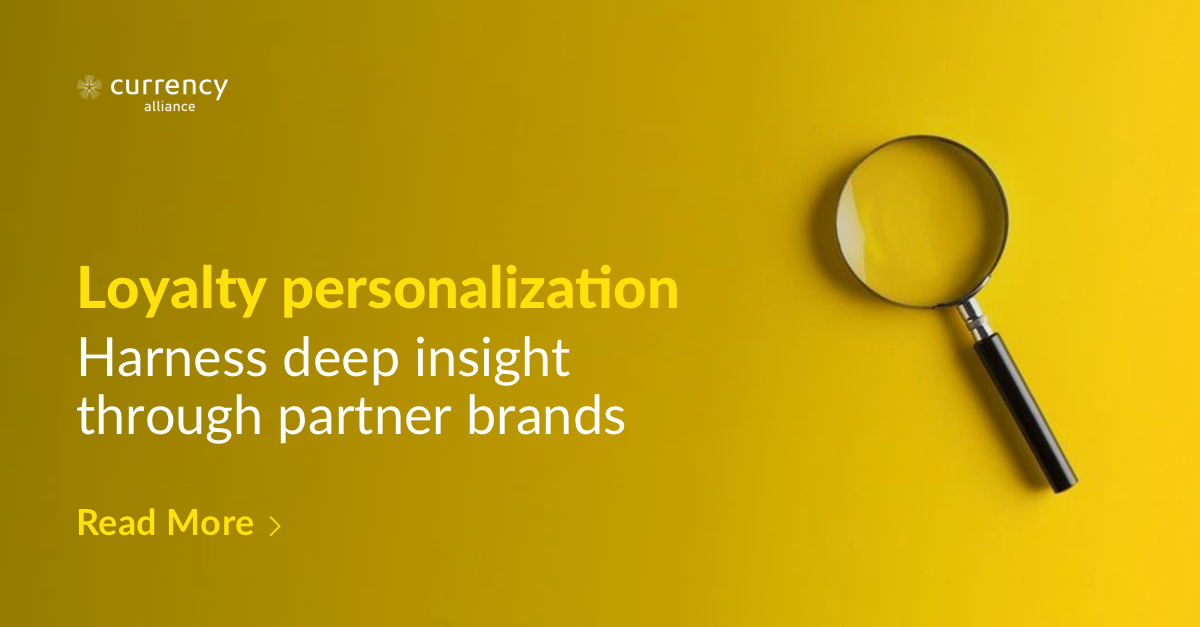 5. Brands shift greater incentives to aspirational experiences
Brands made it easier to spend their loyalty currencies in 2018 and 2019 – which is great.  But this is a double-edged sword, which must be blunted on one edge to remain sharp on the other.
Customers really appreciate snackable rewards. Choice Hotels' Smart Privilege program, which allows customers to burn instantly on perks such as $2.50 Uber credit or a $5 Starbucks voucher, has been a great success, particularly amongst less-frequent customers[iv].
But the trouble with such rewards is that customers will forget them 10 minutes later – and they don't reveal much useful insight about your customer's preferences. On the other hand, when you discover why your customer wants to accomplish a goal – a vacation, or another great experience – you can find many new ways to engage, and probably find ways to deliver value without increasing your budget.
So as loyalty currencies become more liquid, market forces will require winning brands to provide this degree of freedom or face losing many members, but also to more strongly encourage customers to burn on experiences that tie their brands to fantastic memories.
Sure enough, interest in experiential rewards is surging.
The Gartner L2 Intelligence Report found that 68% of loyalty programs (compared to 61% last year) now offer access to experiential rewards, including access to exclusive events[v].
Reebok, a sports brand, now offers 'all-access passes to concerts and events'[vi].
Experiential rewards aren't altogether new; they've been available via redemption catalogues for decades.
But as greater point liquidity fuels greater customer freedoms, brands will need ways to stay top of mind in an increasingly competitive market.
This will mean providing memorable, aspirational experiences through direct brand partnerships, at low cost, with proactive data sharing – rather than the legacy model, of allowing a rewards catalogue provider to horde the data, and siphon off value that should go straight to the customer.
6. Good omnichannel experience continues to get more budget
Omnichannel ambitions were dismissed as pipe dreams a few years ago; now, consumers expect an Uber or Apple experience from everybody, and brands are responding with urgency.
Michael Yung, Head of Digital Product and Technology at Asia Miles, said in a recent interview:
Members who have 10 to 15 years of membership history with us still prefer the call center…. the latest generation wants self-services, chatbots, and mobile devices, so we have to implement our digital products accordingly.[vii]
Websites, apps, kiosks, games, mobile wallets, e-gift cards and so on are receiving significant investment as companies redefine service delivery via their digital transformation efforts.
Those loyalty programs that provide consistent omnichannel functionality are benefiting from more customers serving themselves, more frequent engagement, and better data capture.
Everybody is satisfied – if not very pleased.
The more interfaces you create, the more opportunities you create for your customer to earn and burn.
As touchpoints become more digital, brands can measure satisfaction constantly and tweak the experience where necessary.
Card-linked offers, and other methods of matching credit/debit card numbers in payment networks are enabling better customer targeting. Most of this has been focused on providing discounts or cashback, but in 2020, brands will increasingly use card matching to add reward earning opportunities with merchant partners that cannot easily modify their Point of Sale systems.
Dennis Rhee, CMO at First Financial Bank, a US institution, said there would only be one focus for his budget in 2020.
'Digital. Digital. Digital.'[viii]
As opportunities double and triple for digital growth, this certainly seems money well spent.
Earn the right to serve your customer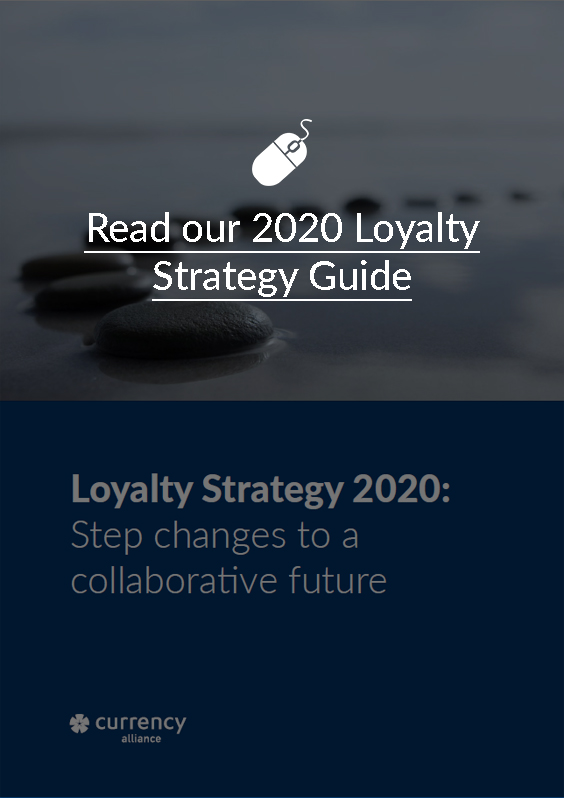 Just to balance the discussion, topics that will not be top-of-agenda include blockchain, subscription loyalty, and surprise and delight.
Subscription loyalty is relevant in 2020, but only works for certain types of companies. In a recession, subscriptions will be the first expense customers cut.
Some companies such as Asia Miles undertook innovative blockchain experiments in 2019[ix], but we are now in the 'Trough of Disillusionment' in Gartner's technology hype cycle. Brands now largely understand the implications and great potential of blockchain, but until there is a network of potential collaboration partners on one or more blockchains, benefits remain out of reach.
Surprise and delight efforts were a fad that ran its course. The cause of failure is that they only reward your most frequent customers, and actually reduce the ability to capture useful information about less frequent customers, who are far more numerous, and represent pools of profit that surprise and delight programs cannot tap.
More pressing and important than any of these, is the objective of making every customer feel recognized, and personalizing interaction at every step in the customer journey.
Points alone can't do this.
Many programs recognize that they have cut back on loyalty program value so much in the past decade that their points no longer have much perceived value beyond the most frequent customer (who is earning them in volume while her employer is footing the bill).
If you're one of them, you need to think broadly about how you can make your loyalty currency more valuable to every customer so they are motivated to stay engaged an allocate more share of wallet to your brand.
As we have seen, many of the brands leading this year's loyalty trends are not major airline, hotel groups, or supermarkets, but smaller (or younger) companies which have been able to innovate more quickly.
These companies may have less mass appeal – but that's part and parcel of why they're making such gains. These companies cater to more narrow segments of the consumer population, and they have the agility to rapidly deploy new technologies and innovate around those customers' specific needs.
This has fostered a now-widespread expectation that brands should cater to a customer's interests, ambitions, and general well-being, in order to retain the right to serve their immediate commercial needs.
The consumer may not consciously think that Tesco or British Airways can't do this. But, lavished with hyper-personalized messaging from startups and FMCG brands, they will rapidly lose patience with the generic messaging and underwhelming offers that typify the loyalty old-guard.
The race for affinity is far from over.
Liberated by agile technology, it is now eminently achievable for businesses of any size to create new perceived value quickly and at low cost, to get the next 20-40% of customers active in their loyalty programs.
Engage customers at new touchpoints, with new partner brands, around topics that matter to customers, and with appropriate feedback loops and data analysis built in, and you will become able to deliver hyper-personalised reasons for customers to stay loyal.
Your loyalty program: set the trends for 2021
Currency Alliance is passionate about helping brands connect with their customers.
As well as the the topics summarized above, there are dozen of other loyalty micro-trends currently percolating beneath the surface.
Some of them could quickly be deployed as tactics in your loyalty program.
Currency Alliance's loyalty software fits as a lightweight layer over your existing loyalty technology, making it quick and easy to forge the partnerships that appeal to each customer.
It's low cost, free to try, and with the easy API connection, you can be up and running within days.
Contact us to find out more.
References
[i] https://www.slalom.com/case-studies/dsw-loyalty-platform-google-cloud
[ii] Loyalty Magazine, June 2019 edition
[iii] https://www.brierley.com/emotional-loyalty
[iv] https://hospitality-on.com/en/worldwide-hospitality-awards/choice-hotels/choice-privileges-loyalty-program-relaunch
[v] https://www.retaildive.com/news/retailer-loyalty-programs-ramp-up-experiential-benefits/557943/
[vi] https://digiday.com/retail/new-loyalty-retailers-turning-experience-based-programs/
[vii] https://www.forbes.com/sites/peterhigh/2019/04/23/how-asias-largest-loyalty-program-uses-blockchain-to-rewards-members-in-real-time/#760a083c2097
[viii] https://thefinancialbrand.com/90016/marketing-budgets-banks-advertising-spend/
[ix] https://www.forbes.com/sites/peterhigh/2019/04/23/how-asias-largest-loyalty-program-uses-blockchain-to-rewards-members-in-real-time/#3dcc7b5d2097