Loyalty programs once enabled relatively personalized marketing.
From a standing start of zero customer data some 20 years ago, brands became able to incentivize desired behaviors in highly-predictable customer segments.
They did this by embarking on 'no-brainer' partnerships: where the customer journey is so linear (think airline + car rental) or the customer frequency so high (think grocery store + fast-casual dining) that a brand partnership creates obvious value.
Value, that is, to a minority of highly-frequent, high-spending customers.
Today, practically all these higher-spending customers are already enrolled in 'no-brainer' loyalty coalitions. Comprising perhaps 20% of your customer base, they form one of the 'big, molasses segments'[i], now widely considered totally insufficient for modern marketing.
To the majority of less-frequent customers, these partnerships are not only impersonal, but many are downright irrelevant. If you don't fly often, you probably also don't stay in a lot of hotels.
It is with these less-frequent customers that the biggest profits lie.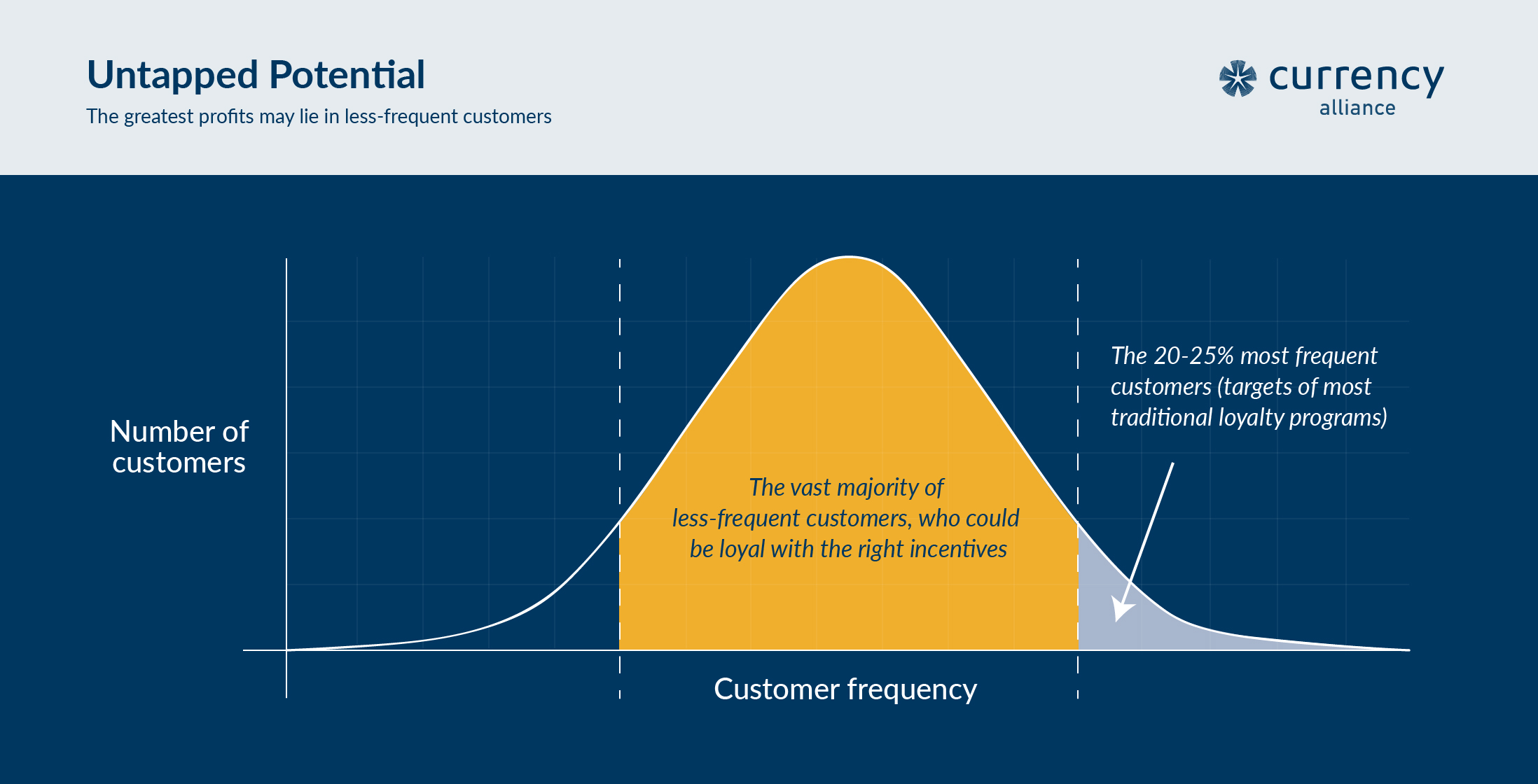 Now that brands recognize that narrow engagement of only the most frequent customer is no longer enough, they need to engage mid-tail and longer-tail customers to find growth.
The partner mix, therefore, must be revisited.
Partners enable two things, in your loyalty program:
capturing data to identify the highly personal 'something extra' which incentivizes customers to shop your brand, rather than a competitor's
delivering more loyalty value so customers accelerate their path to rewards – keeping them engaged with your brand.
You need partners to achieve this, because beyond the high frequency segments, the 'something extra' (usually wants, more than needs) is almost infinitely varied. But you can pin it down with detailed, long-term data collection across the dozens of other spending categories in which your customer shops.
You also need partners to deliver on the findings – because…
"…instead of trying to be all things to all people, top brands know they can only be excellent at one thing, so to continue to offer excellent service in a new category they need to partner."[ii]
Brands claim to understand this, but market-wide, the degree of personalization to drive meaningful engagement have been woeful, in large part because the partner mix is not balanced to benefit 80% of a brand's customers.
This article delves into the partnership strategies of major loyalty brands.
I explain here why efforts, that used to work, are no longer differentiators. I also highlight a few inspirational examples of how brands can help each other better understand what makes each customer tick.
Loyalty partnerships can unlock valuable customer data
Some big loyalty brands appear to have a lot of partners.
This does make the program look more exciting to members, and the currency more valuable.
But these 'partnerships' only cover a few categories of customer spending – and the connectivity is assembled in such a way that they cannot unlock valuable data, which could enable each collaborator to understand a member's lifestyle preferences to personalize engagement, making it easier to start personalized marketing to certain audiences to increase sales or turn potential customers into existing.
Consider Avios and Tesco, for instance.
Tesco Clubcard lists 148 partners. Avios claims many more: 489 different experiences in New York alone.
Some of the partnerships look like a match made in heaven. In the case of Tesco and Pizza Express, the customer can double or triple the perceived value of points on a meal voucher, while Pizza Express knows the net discount they are taking on incremental revenue is well below the contribution margin from serving additional guests.
But how many of those 'partnerships' share customer insight?
In most cases, these 'partners' actually have no direct relationship with the brand.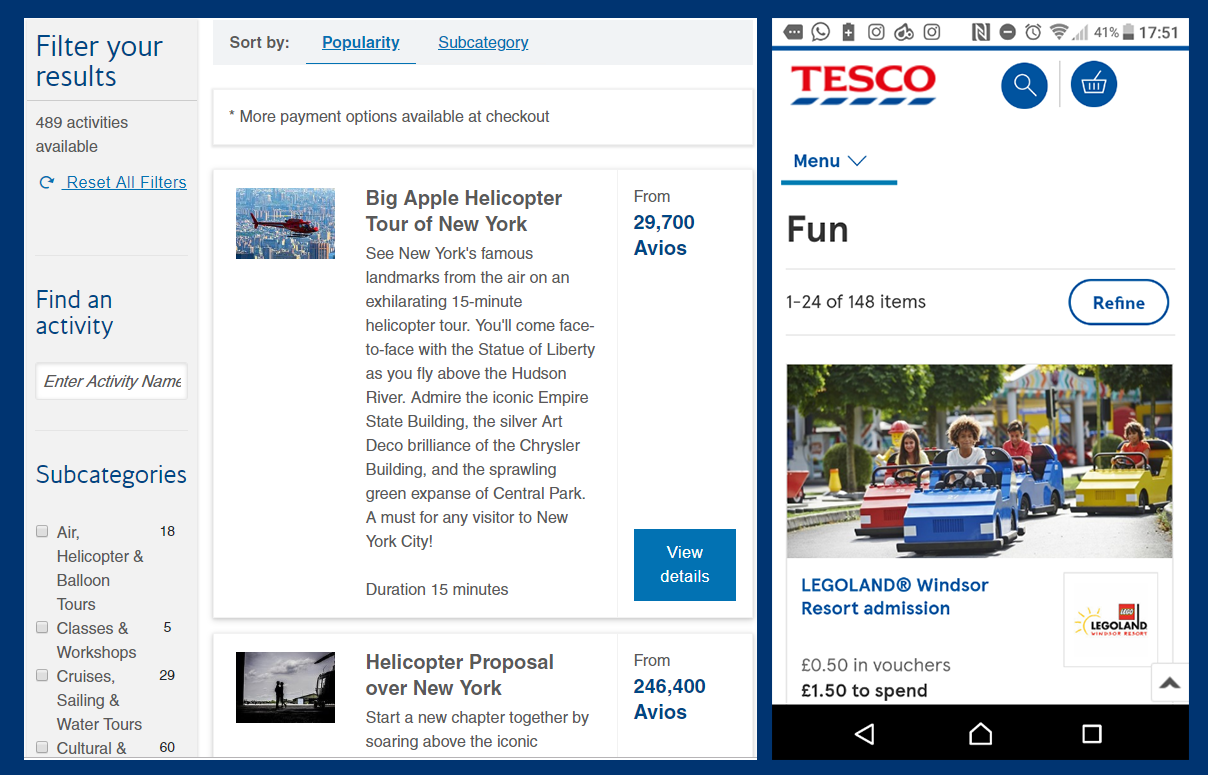 Instead, the deals are aggregated through a third-party provider.
That aggregator not only takes value out of the customer's pocket, they also limit (or block) useful data sharing.
Tesco knows who redeems for vouchers, but they probably don't get any fine detail to indicate:
whether the member ate alone, with friends, or with family
how many family members the customer may have
whether or not they (or someone in their family) are vegetarian, or allergic to certain foods
a particular wine that they enjoy (or if they drink alcohol at all)
…and so on.
Equally, Pizza Express would love to glean that insight from Tesco and British Airways, who both sell food, and are both in a position to collect all the above data points, and many more besides.
I can hear GDPR alarms going off in your head.
With reason.
The customer must obviously opt-in to this type of data sharing. Most will – if they believe it will improve their experience and value across the partners.
More importantly, our hypothetical Pizza Express customer would love to receive personalized offers based on the above insights (rather than receiving the same "Chickpeas only 59p" or "cheap flights to Paris" offers, week after week, only to find that the chickpeas really are 59p but the cheap flights [at least as a redemption option] can't actually be found).
A lot of great potential insight is going to waste.

The partner mix
Improved data-sharing is only part of the equation.
The current partner mix, of travel, lifestyle and entertainment brands, only feels crafted to a minority of relatively high-end individuals, who would shop those brands anyway, with or without the loyalty program.
Other customers' preferences will be far more varied, and spread across the many other categories in which they shop.
This doesn't mean you should partner with everyone. To narrow it down, focus on the complementary partners that are most relevant to your existing customers, and that can unveil useful new insight about them.
Start with the customer insight you would like to know
define the behaviors you'd like to drive
think about which new customers would be most likely to carry out those behaviors
learn what makes those customers tick.
That will help you zoom in on some potentially very valuable partner brands.
In fact, many people follow common habits. What do your customers often buy at the same time they buy your product/service? What do they buy 3 months or 6 months before buying from you? Can you partner with a brand that can reveal those leading indicators of intent?
Let's assume, for instance, that you're an airline, and you simply can't sell those troublesome seats on midday flights during school semester times.
Who would be the perfect customer for these seats? Perhaps it would be a middle-income young family with very small children.
These people may never participate in your existing frequent flyer program. The 'burn' opportunities of experiences and lifestyle brands just aren't relevant to their priorities; they may even believe that air travel simply isn't for them.
But a baby formula brand may gladly buy the seats off you, if it helps them secure ongoing sales from those customers during the baby formula phase of child rearing.
A coalition between easyJet and Aptamil?
Not such a crazy idea – if you're a rational brand.
After changing diapers for 2-3 years, a family may be very prone to fly to a warm location and let the kids run around on the beach, while the parents enjoy the cool breeze and romantic evenings when the kids are zonked out from an active day.
Now, think about the full range of a customer's spending.
Based on data from the USA Bureau of Economic Analysis, the big loyalty programs today are only really tapping into around 15% of customers' discretionary spending. Any individual program is probably managing barely half that figure.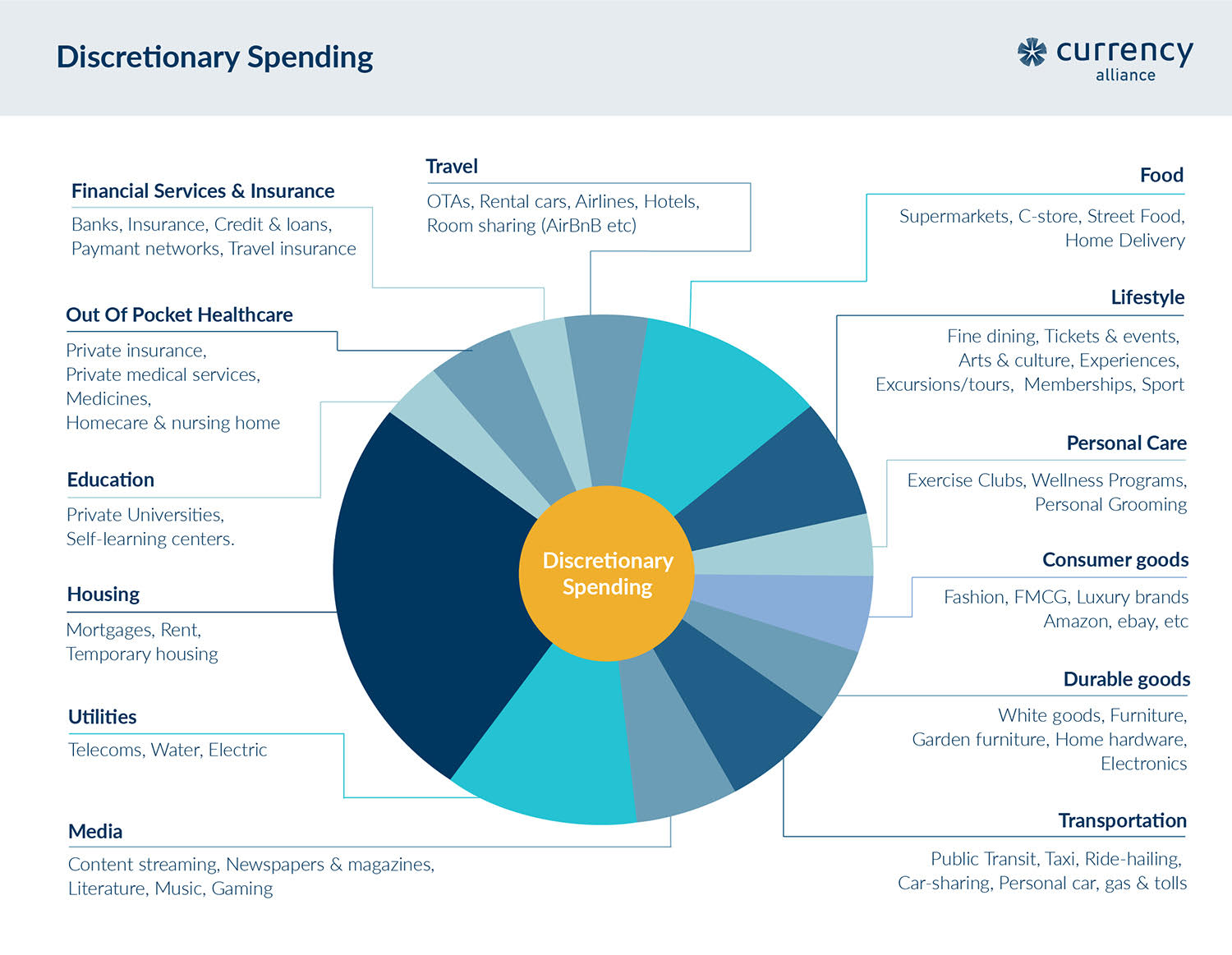 Consumer spending within a coalition will be higher in Canada, Australia, or the UK, but those programs have their own issues with consumer value loss due to high operating costs.
Anywhere in the world, you could forge a useful collaboration between brands across almost every category on this chart, extract useful insight about your customer, and provide genuinely exciting and personal motivations for them to stay loyal.
You don't have to be Carrefour or Walgreens to pull this off, but you will need low-cost technology to enable brand connectivity, so that most of your investment in loyalty marketing goes to the customer, rather than to intermediaries.
Raising the stakes
The theory here isn't groundbreaking; loyalty professionals have known for years that their programs only appeal to two types of customers.
The trouble now, is that knowing a little bit about the 20% of customers with high frequency is no longer enough. And, the lower-frequency customers who always join every loyalty program probably don't have that much spend that could be shifted to you.
In between these two extreme segments are 50% to 70% of your total customers – and among them are many that could be incentivized to spend much more with you, or at least across your loyalty program partners.
That is where incremental revenue opportunity exists – at a much lower cost of customer acquisition (or retention) than finding entirely new customers.
A 2018 UK survey by the Direct Marketing Association found that programs designed primarily around the rewards were the least-effective drivers of loyalty – an alarming indicator of how the design of most programs is out of whack with what customers want.
Most effective were "functional" drivers – giving customers something they want, or need.
And today's customers are increasingly accustomed to getting what they want.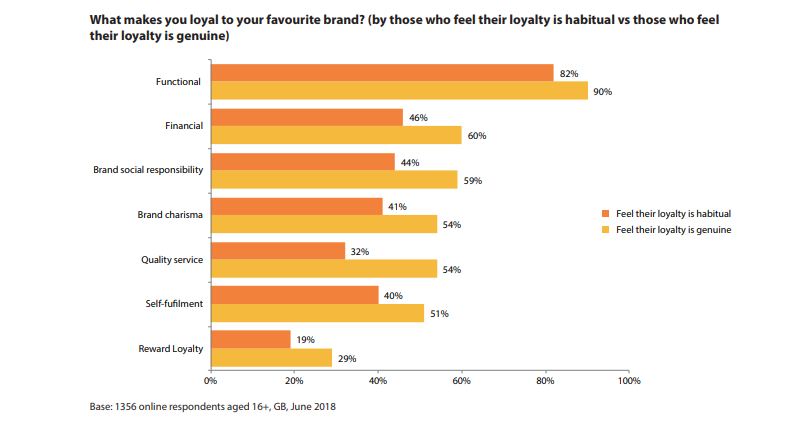 This state of heightened expectation has been driven by leaps and bounds in personalization, in every other marketing discipline.
There have been some false starts; as recently as 2016, a journalist on The Guardian wrote a diatribe against tracking cookies entitled, "I'm being chased around the internet by a shed".
But brands are now having great success creating marketing frameworks in which customers want to participate, because they are rewarded with such a relevant, personalized experience.
Some are tech companies: Airbnb, Uber, Grab, WeWork, Robinhood, N26, SmileDirectClub, Monzo, Zomato, Spotify and Zalando to name but a few, who have built great loyalty around unique customer insight and experience.
Zappos, Dollar Shave Club and Skype to name a few more – and you only wonder how much further they might have gone, had they not sold out.
Others are consumer brands.
Proctor & Gamble's HairCode app invites customers to upload information on their hair type, lifestyle and local climate, in exchange for personalized product recommendations.
That's a great start, but what percentage of P&G's customers are likely to download that app?
Perhaps they could triple customer engagement by enabling a widget to capture that data when the customer is on a complementary brand's customer journey.
And others are loyalty brands.
In loyalty, the global fuel and convenience store chain Circle K comes to mind. Their program is simple, aspirational, and in full support of their primary mission: to help busy customers optimize their time.
But many more powerful successes are being driven by a pioneering approach to loyalty partnerships – usually, by relatively small loyalty brands, using direct partnerships to extract useful insight, and create genuine new value for customers.
ING Direct, a European bank, won "Best Loyalty Programme of the Year – Financial Services" at the Loyalty Magazine Awards 2019 for doing just this.
ING is one of the few remaining banks in the European Union that has held on to a loyalty program after interchange fees were slashed in 2017. In Poland, ING has partnered with complementary brands to offer customers the opportunity to earn meaningful value from many more places they shop.
GEMS, a leading education company based in Dubai, won 'Best Regional Loyalty Program in the Middle East and Africa', because the mix of partners allows families to earn loyalty currency across many categories of spend – enhancing the personal value of the GEMS brand to the entire family.
But these examples are rare. While it would be unfair to say that major loyalty brands aren't also making some improvements, there remains too much focus on the sex appeal of the rewards themselves, and not on helping customers along the path to achieve their own desired outcomes.
The partnerships between Hilton and Lyft or between Wyndham and DoorDash are also clearly a step in the right direction, but I wonder how much customer insight sharing actually takes place; or rather if these are just transactional relationships.
Many of the larger established programs are also hamstrung by legacy technology and dependence on vendors with their own agendas.
As smaller, more agile brands make headway, the personalization capabilities of the old guard look ever more limited by comparison.
Customers' patience seems sure to wear thin.
Low-hanging fruit
Proposed scenarios such as the Aptamil/airline idea won't happen overnight.
Many big loyalty programs will look at them as being 'wacky' or futuristic.
Others will be too arrogant to associate with diapers or infant formula (while others will recognize that their customers spend a great deal on such products, and that a collaboration could benefit all stakeholders by revealing revenue and insight – including that which can be elusive from much harder initiatives).
A step which no brand could object to, however, is to make their existing relationships more productive: extracting more insight, and enabling more personalized experiences.
I would like to see Accor hotels (which I only stay at 4-5 times per year) knowing that I fly at least 80 times per year because they collaborate with IAG. I'd like to see someone from Accor approach me in the lobby and say "Mr. Ehredt, you've had a busy schedule recently – this beer is on us. Is there anything we can do to make your day tomorrow as productive as possible?"
I would also like the receptionist at Wyndham Hotels to say "Mr. Ehredt, we are sorry to see that you arrived two hours later than expected tonight due to weather delays that affected United Airlines in Denver. United asked us to ask you if we can deliver breakfast to your room, at their expense, so you can get an extra 30 minutes of rest?"
In both cases, I would mention that "Mr. Ehredt" is my father, and my name is simply Chuck. But I would appreciate both initiatives and probably share these positive stories with dozens of my friends and business contacts.
For those of us who travel frequently for business (but are not in the top 0.2% with any one brand), this might sound like science fiction. But the data is readily available, and the push communications platforms exist.
And even if your brand is not ready for extensive data sharing, you ought to be putting the plumbing in place, so that when you finally do want to share the data that reveals broader customer insight, very little additional IT involvement is required to turn on the data flows.
What don't seem to exist – beyond a pioneering few – are the entrepreneurial mind-sets to carry this thinking to the next generation.
Personal drivers of loyalty
People don't travel because they love sitting in airline seats; they travel to communicate more effectively face-to-face, or for their well-being.
And people don't shop because they love groceries, but because they have families to feed, or they love cooking, or they're hosting a party.
Equally, people don't join loyalty programs because they love collecting points, but because they feel that the program will help them achieve their goals.
If you only operate 'no-brainer' partnerships, and you don't make good use of your customer data, you'll rarely discover what those goals are, and you'll be limited in offering truly personalized forms of value to your most loyal customers.
More importantly, you'll never figure out which of your mid-tail and longer-tail customers are actually big spenders – just not with you (yet).
Loyalty programs should be differentiators for the brands that operate them.
Instead, most programs today can be viewed much like commodities.
This was always an inevitable consequence of building loyalty programs almost exclusively around 'no-brainer' collaborations. Because they're no-brainers, they're easily copied, and they no longer seem personal to anyone.
It doesn't have to be this way.
Due to high legacy costs, loyalty coalitions have been limited to very large brands: hotels, airlines major retailers, and few others – but these problems are now being solved.
Loyalty technology has diversified and democratized, and many brands are now proactively revisiting their loyalty strategies and program design.
Such reconsideration is progressing slowly, but it has been encouraging to see the uptick in activity during the past year.
I was very encouraged to hear a major Middle Eastern airline say recently that they must cut the on-boarding time of new partners from 9-12 months down to 30-45 days; and, that they want to increase potential partner conversion from less than 10% to 40%-50%.
50% conversion on partnership inquiries seems about right – because many potential partners will get discarded simply because their product or service is not very complementary.
But the 'purpose' of accelerating partner on-boarding is because the airline wants to compete based on data and unique customer insight as a complement to their product, rather than based on price.
I would estimate that the top 20 airlines and top 10 hotel chains receive a dozen inquiries per month from brands that want to piggyback on their loyalty program. Yet, they tend to implement only 2-3 per year.
With so much pent-up demand, the solution is being handed to them on a plate, but most brands look at the possible collaboration costs and benefits through out-of-date lenses, and overlook the potential of new models of collaboration and connectivity.
To capitalize, big loyalty brands should stop being so focused on their own data, and the experience delivered only by their own brand, and start thinking about the customer's reason for engaging with them in the first place.
In nearly every case, the customer has broader desires than buying your product or service.
Your product or service is a means to an end.
Knowing these desires can unlock many more positive touchpoints which feel personal to the customer.
Multiple new revenue opportunities, from far more engaged customers, will be your reward.
Interested in personalized loyalty marketing?
Currency Alliance can help.
Our SaaS makes it easier for loyalty brands to forge the partnerships that appeal to their customer.
The software fits as a lightweight layer over your existing loyalty technology. It's low cost, free to try, and with easy API connection, you can be up and running within days.
Find out more, or click here to get in touch.
References
[i] https://digiday.com/marketing/santanders-using-first-party-data-increase-loyalty/
[ii] https://www.urbo.com/content/brand-partnerships-that-failed-miserably-and-a-few-that-worked/