These were our top trends for 2019. Click here for the 2020 trends.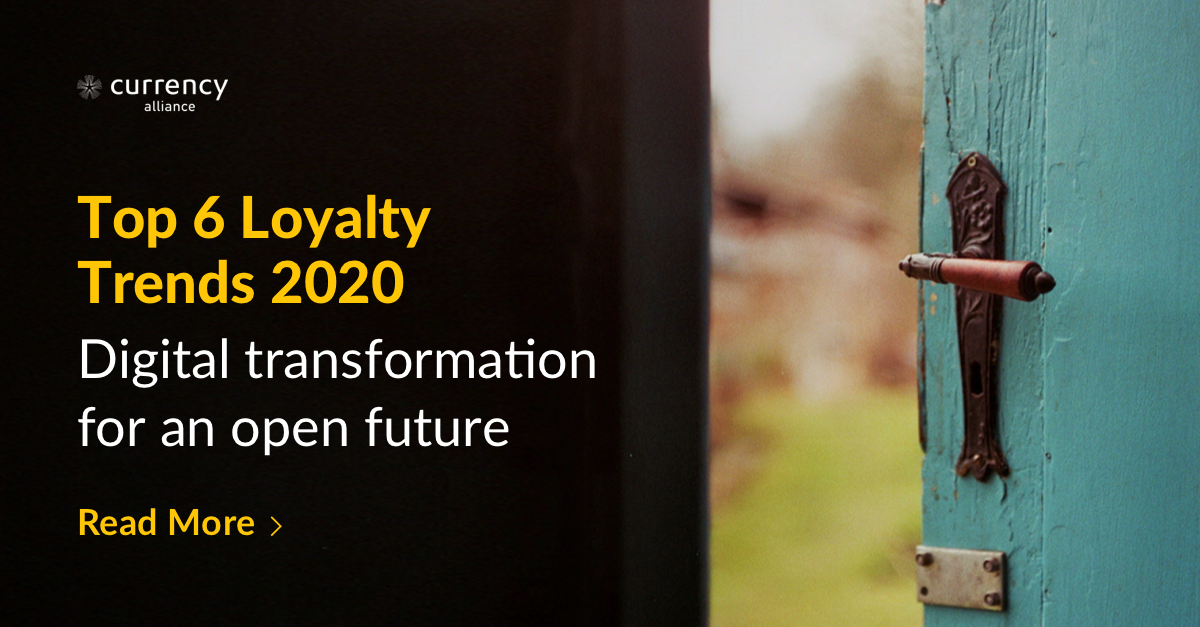 Reconsidering Loyalty: Top Loyalty Trends for 2019
"the biggest 25 food-and-beverage companies…generated 45% of sales in the category in America but drove only 3% of the total growth"[i]
The Economist, November 2018
Really think about that for a moment. Escalating competition across sectors – not a purported "death of loyalty" – is making loyalty harder earned.
As a result, major loyalty trends for 2019 will see a wave of innovation as established brands trial new ways to retain share of mind.
Reward programs still have an important part to play in this effort; but they are only part of the picture.
YouGov data from the UK shows that even the youth demographic – supposedly disloyal – thinks that points programs "are a good way for brands to reward customers and 59% think all brands should offer one."
But sustainable loyalty is based on the customer's perceived value of, and cumulative experience with, each brand – and not on the points. Businesses could drive repeat business using loyalty programs, like those from Epsilon, to get an edge over their competitors.
In 2019, the big loyalty trends will revolve around aligning the design of traditional points programs with broader business objectives – and undoing the divergence we've seen in recent years.
Reporting trends in any sector involves gathering business intelligence from data. Analyzing these results can determine the frequency of certain incidences enabling for comparisons over an established period of time. If your business would like to benefit from reporting solutions, you can find survey data analysis software free of charge online on sites such as displayr.com.
Our top 10 picks from the report are (click to skip through) are as follows.
The outcome for the brands which succeed will be in getting 25-50% more customers engaged with their loyalty strategies. Only those brands who have dragged their feet through the last decade will consider that an unachievable goal.
The brands we reported on in 2018 have already proven it can be done – but they were only the beginning of a much brighter, more profitable future in loyalty marketing.
1. Smarter budgeting
At first glance, this year's Gartner CMO spend survey may not make for happy reading for loyalty marketers.
'Loyalty program management' was reported as CMO's lowest priority, with 4.8% of budget, down from 6.6% in 2017[ii].
We believe this is actually cause for optimism.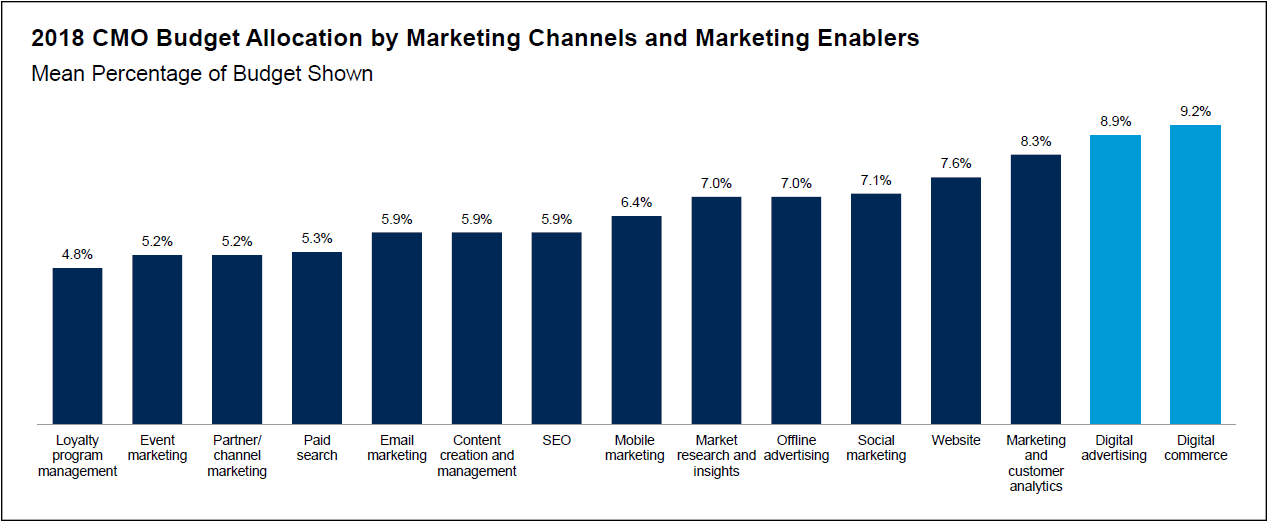 Firstly, loyalty tech isn't as expensive as it used to be.
Modern technology partners providing micro-services are replacing monolithic loyalty platforms, allowing loyalty programs to deliver greater value at much lower cost.
With the analytics and reporting tools typical of modern marketing technology, these new players will enable much greater agility in testing, learning, and rapidly adapting to changing market conditions.
A McKinsey study hints at the amount of room for improvement:
"Intensive users of customer analytics are 23 times more likely to clearly outperform their competitors in terms of new- customer acquisition than non-intensive users, and nine times more likely to surpass them in customer loyalty."[iii]
So the Gartner chart reflects greater efficiency compared to previous investments.
Secondly, brands are becoming much more skilled in earning loyalty outside of the rewards program.
2018 saw a 14.2% share of overall budgets was allocated to marketing personalization[iv], particularly in the biggest loyalty sectors: travel, hospitality & retail.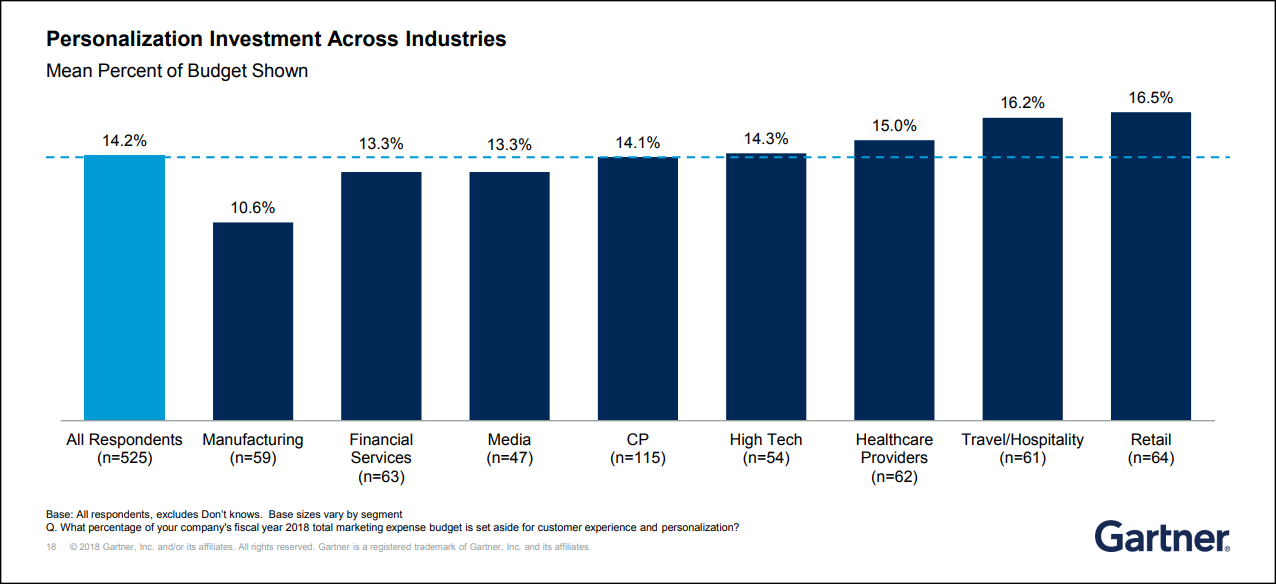 Marketing technology (martech) spending, meanwhile, rose from 22% of budget in 2017 to 29% in 2018.
Currency Alliance has often chided crude percentage-based rewards systems as a waste of marketing budget. There is a far better, more affordable opportunity to dynamically calculate each reward based on the individual customers' interests, and the type of behavior brands are trying to drive.
If loyalty is now being earned more effectively by reappraising the role of points in the wider marketing mix, that can only be a good thing.
2. Personalization gets more (artificially) intelligent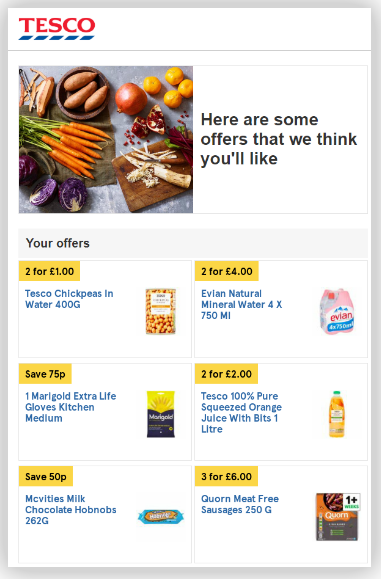 Personalization has been part of the loyalty game for years – but a surprising number of companies are still well behind in delivering on the promise.
Case in point: my friend in the UK received this email based on his Tesco Clubcard data and said that the offers were all quite relevant – just kind of dull.
What will be interesting in 2019 is seeing artificial intelligence (AI) being used to make personalization efforts far more interesting.
A report released jointly by HSBC and a technology company, Moritz Motivation, claimed that "by using AI to predict our consumer's redemption behavior, we've refined our loyalty program to 'speak' to our customers by promoting the perfect reward or experience for them."
Press releases always have to be taken with a pinch of salt, but this one cited a 70% increase in redemption rate across a 75,000-customer trial – an impressive achievement if it can be scaled across HSBC's full customer base.
Beyond more accurate messaging, AI should also be able to be used to identify those customers in the mid-tail and long-tail where the brand is getting a low share of wallet.
This should happen across touchpoints: social engagement, reviews, referrals, etc. – measuring and acting on customer activity to calculate micro-investments in incentives with high probability of a good return.
This will enable more exciting rewards: facilitating dynamic incentives for individual customers, and a big saving compared to issuing the same percentage to everyone.
3. Big brands playing small
Research seems to show that consumers increasingly prefer to shop small brands.
To quote Harvard Business Review:
"In dollar terms, small players-defined as those with sales less than $1 billion-grabbed approximately $15 billion in sales from their larger peers between 2012 and 2017."
This isn't necessarily because big brands have stopped performing; rather, as we called out in our 2018 Loyalty trends blog, upstart competitors have proven excellent at making individual customers feel valued.
The counter-trend for 2019 will be the consumer goods establishment fighting back.
Proctor & Gamble (which suffered an $18bn fall in revenue in 2018) "Can't reverse the decline without learning some new tricks"[v], and similar companies are now mimicking the upstarts' successes in order to reclaim their positions.
Subscribers to P&G's Gillette brand can now reorder by text message, a strategy intended to "drive growth and increase lifetime value by giving consumers the convenience and control that they crave."[vi]
Similarly, L'Oreal's Kiehl cosmetics brand has piloted the use of AI to decide when the customer is ready to reorder.
For decades, the FMCG industry was the antithesis to good, old-fashioned customer service: mass media advertising, success measured in cost per mille and customer experience surrendered to the third-party retailer.
Loyalty wasn't even an afterthought.
Now, far from being impossible, loyalty-earning marketing strategies now seem a vital weapon in defending the consumer goods establishment's market share.
4. Targeted investment in experiences
It's well known that customers will pay for a better experience – up to 16% more, according to a PwC study.
In 2018, this drove a subscription loyalty trend amongst the likes of ASOS[vii], Under Armor and The Gap.
There are questions as to how far this model can be stretched.
Subscriptions for repeat purchases and free deliveries are only interesting to frequent customers – many of whom would have joined a loyalty program anyway – and they don't help low-frequency industries such as luxury goods and travel.
Beyond the subscription model, 2019 will see brands monetizing a greater range of customer experiences that complement their core offerings, earning loyalty by creating more reasons to stay front of mind.
House of Fraser, for instance, a UK department store, is planning a peer-to-peer advice service to connect website visitors directly to experts.
This is intended to increase average order value, and create a value-add even when the customer may not be planning an immediate purchase.
And the Nordstrom loyalty program – though based on points – is designed around premium experiences, such as priority access to clearance sales, and even a home visit from a stylist[viii].
The itemised cost of these experiences may be high – but so is the cost of badly-issued loyalty points
A Collinson study found that only 38% of American adults feel rewarded for their loyalty to travel brands.
"Travel companies are failing to personalize the customer experience – with 61 percent of respondents saying they ignore the majority of communications from travel providers because they aren't relevant or personalized."[ix]
This is a terrific waste; whereas dynamically calculated investments in highly personalized experiences promise a far stronger likelihood of a positive ROI.
5. Deeper marketing integrations
New experiences don't necessarily incur much new investment; you can just connect your existing dots.
2019 will see brands merging previously siloed marketing functions to better understand and manage the customer experience.
Some early progress on this front took the form of collaborations between physical teams.
In 2017, Marriot's social media team spotted that two guests had just become engaged – and swiftly contacted hotel staff to send a bottle of champagne to their room[x].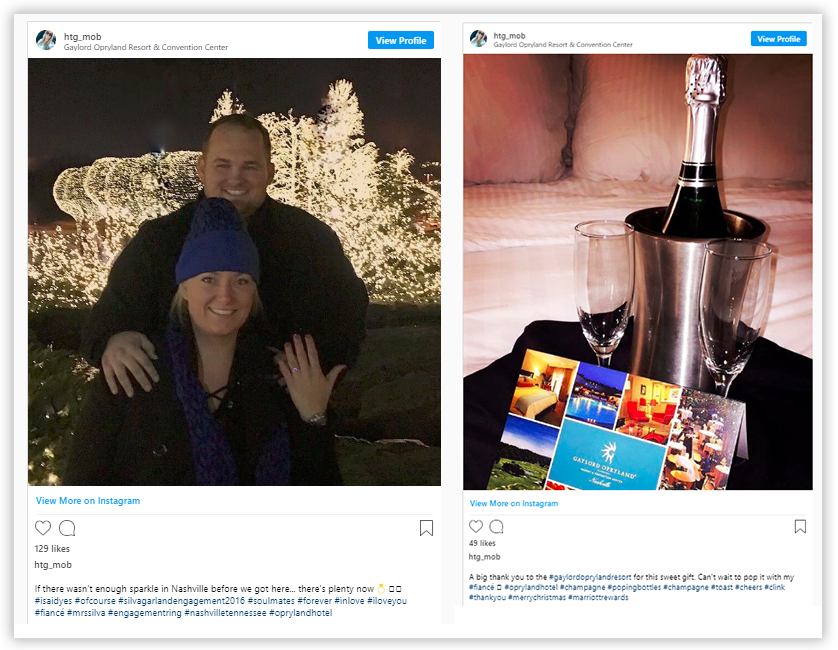 American Airlines, in the same year, staffed its social media desks with people from the AAdvantage and Executive Platinum loyalty divisions, as well as other business areas.
Other brands are relying on technology, rather than people, to tie off loose ends.
Douglas Rice explained recently how hotel brands are now deploying such marketing technologies to personalize offers before, during and after a guest's stay.
There are off-the-shelf solutions to help brands do just this.
Cendyn, a hospitality CRM provider, claims to have helped Greystone Hotels achieve a 200% improvement on CRM campaign revenue.
"By pulling together previously siloed customer data…predictive intelligence resulted in less reliance on the OTAs and more direct bookings from loyal guests."
Ideally, we would see both: loyalty teams sat side-by-side with other business functions, and everyone using the same tech.
But it's easy to say that as a tech start-up unburdened by corporate politics.
However brands connect the dots, they stand to reap significant benefits.
6. Blockchain goes quiet…for now
Blockchain remains highly interesting, but business leaders now understand it – and its current limitations – well enough to cease the hysteria.
The decline in Google search trends reflects a growing realisation that this new technology remains too immature to be of much immediate practical industrial use.

In loyalty specifically, this is a case of waiting for the infrastructure and application layer logic (smart contracts) to mature to the point that a critical mass of partner brands are all prepared to take the plunge.
After all, with no other partners on blockchain, what's the point in using a collaboration platform when there is no one to collaborate with?
This was much the mood of the people I spoke to at this year's Airline Mega-Event; indeed, this October, Xavier Lagardere of Lufthansa was quoted as saying:
'…the group has started working on [Blockchain], but sees it as a mid- to long-term project in terms of its ability to scale and replace any existing distribution mechanisms.'[xi]
There are a number of obstacles in the way, not least a dearth of talent.
With 14 jobs for every blockchain engineer, and the likes of IBM hoovering up the most skilled people[xii], there aren't even the bodies available to write the smart contracts needed to process complicated loyalty transactions.
You can read more about Currency Alliance's position on blockchain loyalty programs here.
In short: blockchain will be transformational – but not in 2019.
7. Loyalty coming to new sectors
In February 2018, the Citizens Advice Bureau, a network of legal charities in the UK, published a paper called "The Cost of Loyalty".
It accused brands in finance, telecoms and utilities of a "systematic scam" under which the average loyal customer was overcharged by 877, compare to customers on introductory deals.
You might say this was harsh.
These industries used to lack both the high footfall, and the highly emotive customer experience which underpin loyalty strategies (neither really apply to the landline phone contract which you signed up to twelve years ago and forgot about).
Introductory discounts were often the only way these brands could grow their businesses.
Things have changed, and not just because customers have become savvier.
Technology has enabled much more highly-emotive customer experiences, and this has made these markets much more competitive.
Sky, a satellite television provider, now has 4.5m customers enrolled in its 'Sky VIP' loyalty program, which seeks to "reduce churn and reward long-term customers[xiii].
The Virgin Red app, for mobile and broadband customers, cuts through to attention-starved consumers by offering a 'daily hit of new rewards and experiences'.
Challenger banks are synonymous with user-friendly apps; Starling has integrated its own with Flux, a loyalty points provider[xiv].
Nothing quite as exciting has yet happened in the energy sector, but a slew of loyalty content from B2B consultancy and technology firms– Accenture[xv], Atos[xvi], etc. – suggests an appealing loyalty offering by an energy brand is one to watch for 2019.
8. Payments coming into fruition as a loyalty touchpoint
Payment providers have long been a thorn in the side for brands.
On the one hand, customers trust and value the service they provide, and that makes trade easier.
On the other, they're expensive – and they don't share all that precious transaction data.
Now, however, brands are finally harnessing the technology to dispense with entrenched card issuer – whilst customers appear increasingly open to mobile payments as an alternative.
As Bloomberg reported this month, "Several chains, including Walmart Inc., Starbucks Corp. and Kohl's Corp., have had some success by baking [payment] apps into their loyalty programs"[xvii].
Customers of Cumberland Farms, a US fuel chain, receive a ₡10/gal. discount if they pay via its own SmartPay app, which deposits payments directly into the company's bank account.
In the European Union, it's a slightly different story, as interchange fees have been slashed by the regulator[xviii]. This will reduce the incentive for brands to find their own proprietary solutions.
But progress will not stagnate. VISA teamed up with Allianz Partners early in 2018 to create a "mobile payment and loyalty app".
With continual advances in and around payments tech, and as consumers warm to alternative finance, competitive pressure to earn loyalty through payments will only build.
We recommend enabling the collection of loyalty points as a by-product of the payment process itself – similar to how American Express reward cards operate.
With mobile tech, you could even generate offers dynamically, based on the customer profile, and apply them automatically during the payment process.
The key challenge for brands will be ensuring they reap the rewards of any advancements in payments-based loyalty, rather than allowing innovative new payment providers to keep all the data for themselves.
9. Judgement day for old school loyalty firms
Loyalty marketing used to mean being hitched to an expensive third-party marketing technology company, such as those that operate Air Miles or Nectar.
No longer the case.
2018 saw major coalition loyalty programs get acquired by participating brands to breathe new life into them.
The effect on the loyalty technology industry has already been significant.
In the run-up to Air Canada's purchase of Aeroplan, analysts predicted that Aimia's workforce would shrink by 60%[xix].
As technology costs fall, and as competition intensifies for market-leading customer experiences, marketing and procurement pressures from brands will continue to take chunks out of those loyalty martech suppliers with aging platforms and business models at the end of their useful lives.
Indeed, the future of loyalty coalitions – which we refer to as Loyalty Coalition Model 3.0 – hinges on a decentralized platform collaboratively operated by the brands themselves, supplanting the need for an expensive third party.
We can also expect to see monolithic, legacy loyalty technologies superseded by individual companies serving each component part – the points bank, rules engine, CRM, campaign management, and redemption catalog, and a decentralized data analytics facility – to give business more choice and agility as their requirements evolve.
Enterprises are moving quickly to micro-services – where best of breed platforms collaborate to deliver more value at lower cost – and with much greater agility. This allows enterprises to start to build up their own tech stack, or app stack as they are sometimes known.
As the tech stack breaks up, monopolies will inevitably break up with it.
It would be a surprise not to see more aging martech casualties in the loyalty space over the coming year.
10. The evolution of loyalty marketplaces
Last year, we highlighted how the "Marriott More" program allows its members to earn and redeem points on everyday retail purchases[iii].
This effectively makes the Marriot More program a marketplace: a single place where customers can shop or engage with many different brands.
Another key feature of a marketplace is liquid currency.
In a recent article, we explained how treating loyalty currencies more like money (simplified rules for earning and redeeming, more places to spend, more choice for the customer) would unlock growth and acceleration in loyalty participation, potentially unlocking high double-digit growth.
The major changes started in 2017, with Hilton allowing members to use their points at Amazon, as well as Choice Hotels[2] and La Quinta, enabling members much more freedom in using their points value.
Wyndham, now, has too dramatically simplified its program – making it easier for customers to engage and benefit. Emirates, Etihad, and United Airlines joined the party, adding many more partners.
These efforts were rewarded with significant growth in membership, but more importantly, a significant growth in activity among the base of existing loyalty program members.
This is a welcome departure from the old-school approach of locking customers in, by creating incentives for them not to go elsewhere.
With markets now too competitive, and challenger brands now far too reliable and appealing, the only viable approach is to acknowledge and embrace the customer's desire to shop around, leave your brand for the time being, and come back another day.
The "opening up" of loyalty programs to offer customers more choice and freedom is not a component of a strategy for 2019.
It's the only way the brands behind them will survive.
Newfound purpose
In 2019, Currency Alliance is calling for a reappraisal of the language of loyalty.
'Loyalty' must be delineated from 'points programs' or 'rewards programs'.
We will always need the latter terms to discuss separately the technology and people responsible for managing payment-based incentives.
But 'loyalty strategy'; 'loyalty marketing' – these terms describe something vastly more complex, not to mention vastly more profitable for businesses.
Sure – 'loyalty program management' received the scraps of marketing budgets this year (and hardly ranked any better in last year's CMO survey, in third-from-last place).
But customer loyalty itself is more important than ever, now that customer retention is harder earned.
And if you guarantee great customer experiences and practice good marketing across the board, what part of your marketing department isn't part of delivering your loyalty strategy?
Loyalty, it's fair to say, spent many years as runt of the marketing litter.
We're biased, but the evidence says that this will change.
Market trends show reward programs becoming a better-loved sibling, and much more deeply integrated element of the marketing mix.
Successes on all fronts:
better measurement and reporting
less wasteful issuing of points
more purposeful collaboration – both with partner brands, and within organisations across departments
realigning loyalty program design with enterprise objectives…
…will see brands benefit from an altogether more intelligent approach to loyalty marketing, and light the path for more surgical but highly impactful investments over the coming year.
Knowing a little bit about 20-25% of your customers should never have been enough.
Given the tools, partnerships, and tried-and-tested strategies now a brand's disposal, it's almost becoming more difficult not to know a great deal more.
Set high goals. They are achievable in 2019.
How is your brand keeping pace with the leading loyalty trends?
Sometimes, game-changing customer experiences start with surprisingly simple technology.
Currency Alliance makes it easier to collaborate with the brands that resonate best with your customers.
Our free, simple, cost-cutting SaaS tech platform can be used to issue, buy, sell or exchange loyalty currencies with other brands – and you can be up and running in a matter of days.
This gives your customer the freedom to earn and spend their points as they wish – while you gain access to valuable new data, turn dormant points into profit, and maximise engagement with your loyalty program.
To discover the full range of benefits, explore the platform and find out more at CurrencyAlliance.com.

References:
[i] https://www.economist.com/business/2018/11/08/the-growth-of-microbrands-threatens-consumer-goods-giants
[ii] ttps://www.gartner.com/smarterwithgartner/8-top-findings-in-gartner-cmo-spend-survey-2018-19/
[iii] https://www.mckinsey.com/business-functions/marketing-and-sales/our-insights/five-facts-how-customer-analytics-boosts-corporate-performance
[iv] https://www.gartner.com/smarterwithgartner/8-top-findings-in-gartner-cmo-spend-survey-2018-19/
[v] https://hbr.org/2018/12/what-big-consumer-brands-can-do-to-compete-in-a-digital-economy
[vi] https://www.retaildive.com/news/what-dollar-shave-club-says-about-the-future-of-subscription-services/509834/
[vii] https://www.thegrocer.co.uk/stores/marketing/what-asos-scrapping-its-a-list-scheme-tells-us-about-the-future-of-loyalty/573728.article
[viii] https://risnews.com/nordstroms-new-twist-loyalty
[ix] https://www.aviationpros.com/press_release/12438648/only-38-of-customers-feel-rewarded-for-their-loyalty-to-travel-providers
[x] https://qz.com/890383/marriott-is-spying-on-its-guests-and-sometimes-sending-them-champagne/
[xi] https://www.phocuswire.com/blockchain-airline-distribution
[xii] https://techcrunch.com/2018/02/14/blockchain-engineers-are-in-demand/
[xiii] https://www.marketingweek.com/2018/06/13/sky-bribery-tactics-loyalty-programme/
[xiv] https://techcrunch.com/2018/02/07/flux-brings-its-digital-loyalty-stamps-to-u-k-challenger-bank-starling/
[xv] https://www.accenture.com/gb-en/insight-utilities-companies-customer-centricity
[xvi] https://www.smartcitiesworld.net/news/news/atos-predicts-profound-change-for-energy-sector-3614
[xvii] https://www.bloomberg.com/news/articles/2018-12-06/retailers-embrace-payment-apps-to-sidestep-90-billion-in-swipe-fees
[xviii] https://www.finextra.com/newsarticle/33060/ec-and-card-giants-close-in-on-inter-regional-interchange-fee-agreement
[xix] https://www.theglobeandmail.com/business/article-air-canada-led-consortium-to-buy-aeroplan-program-from-aimia/