The way in which people's shopping habits have changed in the last 10 years is highlighted by the incredible rise of Amazon.  Consumers have embraced digital shopping in a big way. In 2015, Amazon surpassed Walmart as the most valuable retailer in the US by market capitalization.  And by the summer of 2016, it was the 4th most valuable public company.  The table below emphasizes how investors perceive Amazon's future compared to its more traditional US rivals. Amazon Go may present even more of a threat.
As impactful as the following table is, it only shows 10% of the story because thousands of smaller Brick & Mortar retailers have lost even more value in the wake of Amazon´s growth.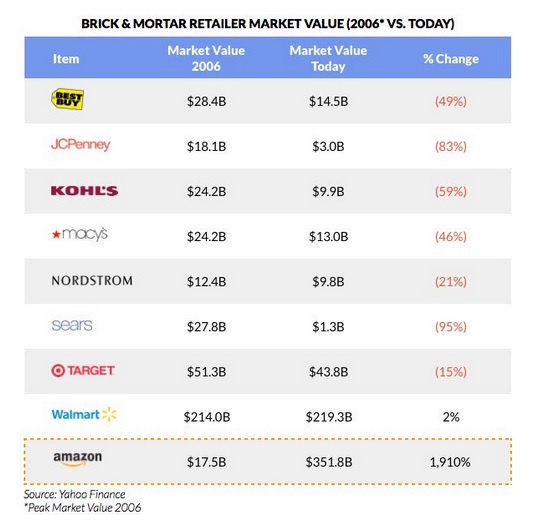 This trend looks set to continue. In large part because Amazon knows a great deal about their customers. The number of Amazon Prime memberships in the USA now represents about half of all households. Merchants in other countries should be very wary too.
So what can more traditional merchants do about such relentless competition (besides being less traditional)? About the only option they have is to fight back with data !!
Unfortunately, most retailers only know what a consumer buys from them. This might represent less than 1% (or in the case of a favorite supermarket, perhaps 10%) of what each consumer spends per year. How can merchants understand the consumer´s broader profile, interests, needs, or even the journey consumers make when shopping if they only capture tiny bits of insight?
What if merchants shared data – in an anonymized way that complied with data protection laws AND consumer expectations – to build a better picture of who shopped at the store?  They could also see who else in a broad coalition data network matches the profile of the merchant´s best existing customers.
Loyalty Coalitions are not new – in fact many are stale – but existing schemes were not built to assemble and share customer profiles. And, they are operated by companies that extract a huge percentage of the value in the loyalty ecosystem to cover their operating costs and hefty profits.
What if a global digital loyalty currency was issued by many merchants without restrictive rules around how it could be used or redeemed? Customer participation would be energized by capturing more value in a single trusted account. And what if that platform charged only for acquiring new customers, so existing customer acquisition budgets would cover the cost?
The loyalty currency could flow like water and the resulting transaction data could be tracked to build a rich profile around what customers do and how they behave across a limitless ecosystem. The loyalty currency could also be used for payments and redemptions – thereby avoiding transaction charges from payment networks.
Brands working together could quickly assemble a richer profile than Amazon and provide a loyalty currency that motivated active customer engagement. More engagement generates even better data for the merchant partners. This flywheel can spin faster and faster – and build real loyalty (or even advocacy) over time.
Most retailers have less than 20% of their customers actively participating in their existing ´stand-alone´ loyalty programs. This implies they are not capturing data on 80% of their customers and have no open communications channel to deliver information and offers. Sharing data and issuing a common loyalty currency seems like a pretty rational tradeoff to try and get 50% (or more) of customers engaged (much like Amazon has achieved). In fact, the global loyalty currency could be a complementary currency within a merchant´s existing loyalty program – offering an attractive choice to less frequent shoppers.
Looking at the situation from another perspective, Apple, Google, Samsung and others are already offering intelligent assistants to help consumers acquire what they need or want. This will quickly extend from primarily acquiring information on the Internet to acquiring products and services. These ´cold and objective´ digital assistants won´t care much about brands. But they will calculate net value from most transactions to help their ´master´ find the best deal. When intelligent digital assistants go mass market, any merchant not participating in a larger ecosystem is likely to see their business erode even more rapidly than we have seen over the past few decades.
Waiting another year to see what happens is no longer a viable option. Large and small merchants alike need to be proactive and work together. They must join the type of data coalition that can deliver the insight they need to understand their customers and ensure that data is actionable – to drive improved results which can be measured.
Most companies are sitting on tons of data. However many don´t have the people or technology (or possibly even budget) to put it to good use. At the very least they may as well share transaction data in exchange for the benefits from the network effects of a data and loyalty coalition.
*This article first appeared on LinkedIn.*